More than 350 building owners and managers showed up on Wednesday, May 10 at the Cabaret du Casino de Montréal to attend the 2023-24 BOMA Awards Gala presented by BOMA Quebec. The prestigious event, presented every two years, honours excellence in property management, and is the point of departure for a competition for the winning organization. They then go on to compete against the best in the industry nationally and internationally.
BOMA Quebec wishes to thank the honorary president of the evening, Madame Marianne Duguay, senior vice-president, Real Estate Asset Management, at the Fonds immobilier de solidarité FTQ, which was a presenting partner of the event.


2023 – 2024 WINNERS
The BUILDING OF THE YEAR AWARD is the most prestigious award in the North American commercial real estate industry. It pays tribute to organizations that stand out for their excellent overall management, the quality of their operations and their environmental performance. The winner is:
995 BOUL. ALPHONSE DESJARDINS (Desjardins Real Estate Group) – Category: Less than 100,000 square feet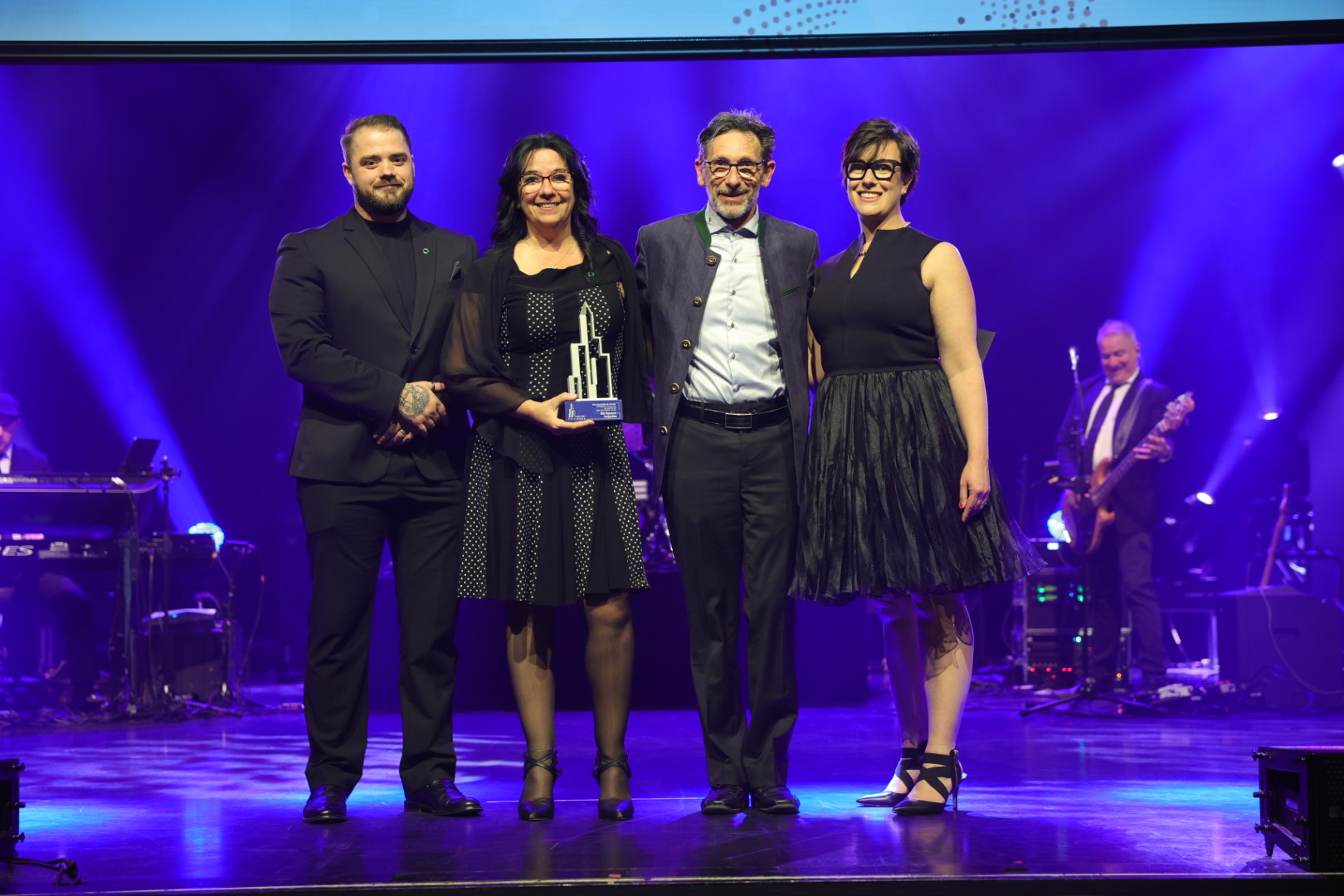 (The Groupe immobilier Desjardins team and Ms. Marianne Duguay, Senior Vice-President, Real Estate Asset Management at the Fonds immobilier de Solidarité FTQ and Honorary President of the evening)
The PINNACLE AWARD honours excellence in customer service. Winning companies are those that demonstrate superior service delivery characterized by innovation, consistency, creativity and integrity. The winners are:
ENGLOBE – Customer Service Category
CONTROLNET BUILDING MAINTENANCE SERVICES – Innovation Category
PETRA GROUP – Exceptional Service Category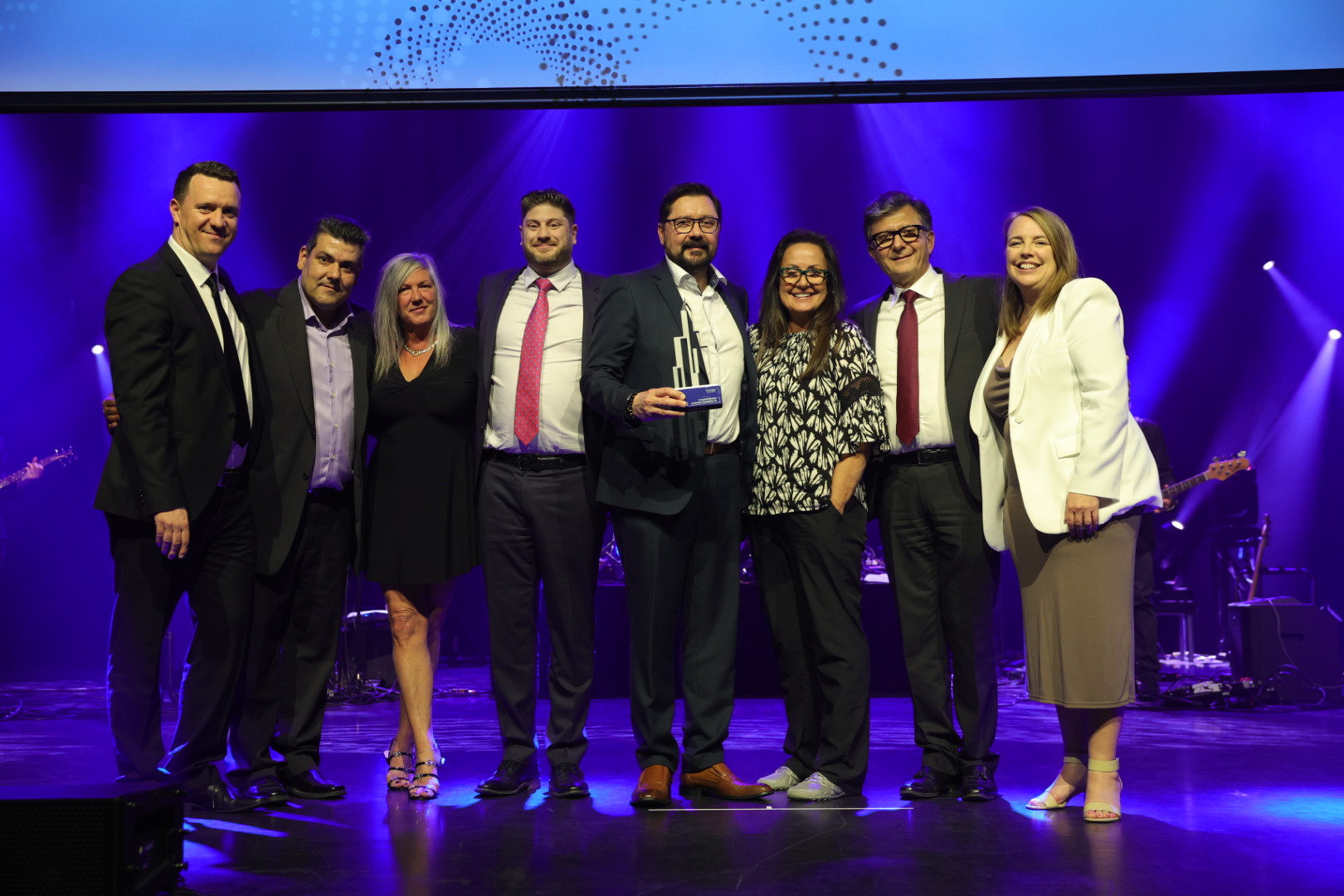 (The Controlnet Building Maintenance Services team and Ms. Annik Desmarteau, Vice-President, Offices, Quebec, Ivanhoé Cambridge)
The BOMA BEST AWARDS – New for 2023 - honours buildings certified between April 1, 2022 and March 31, 2023 that have
obtained the highest score in their asset class. The winners are:
KIRKLAND 17101 CHEMIN SAINTE-MARIE (Smart Centres) – Open Air Retail Category
COMPLEXE MULTIFONCTIONNEL DE LOTO-QUÉBEC (Loto-Québec) – Universal Category
CA LAVAL – 1881 MICHELIN (Hydro-Québec) – Light Industrial Category
GALERIES D'ANJOU (JLL) – Shopping Centre Category - closed
CDM DE MONTRÉAL Inc. - 700 Wellington Street and 75 Queen (Allied Properties) – Office Building Category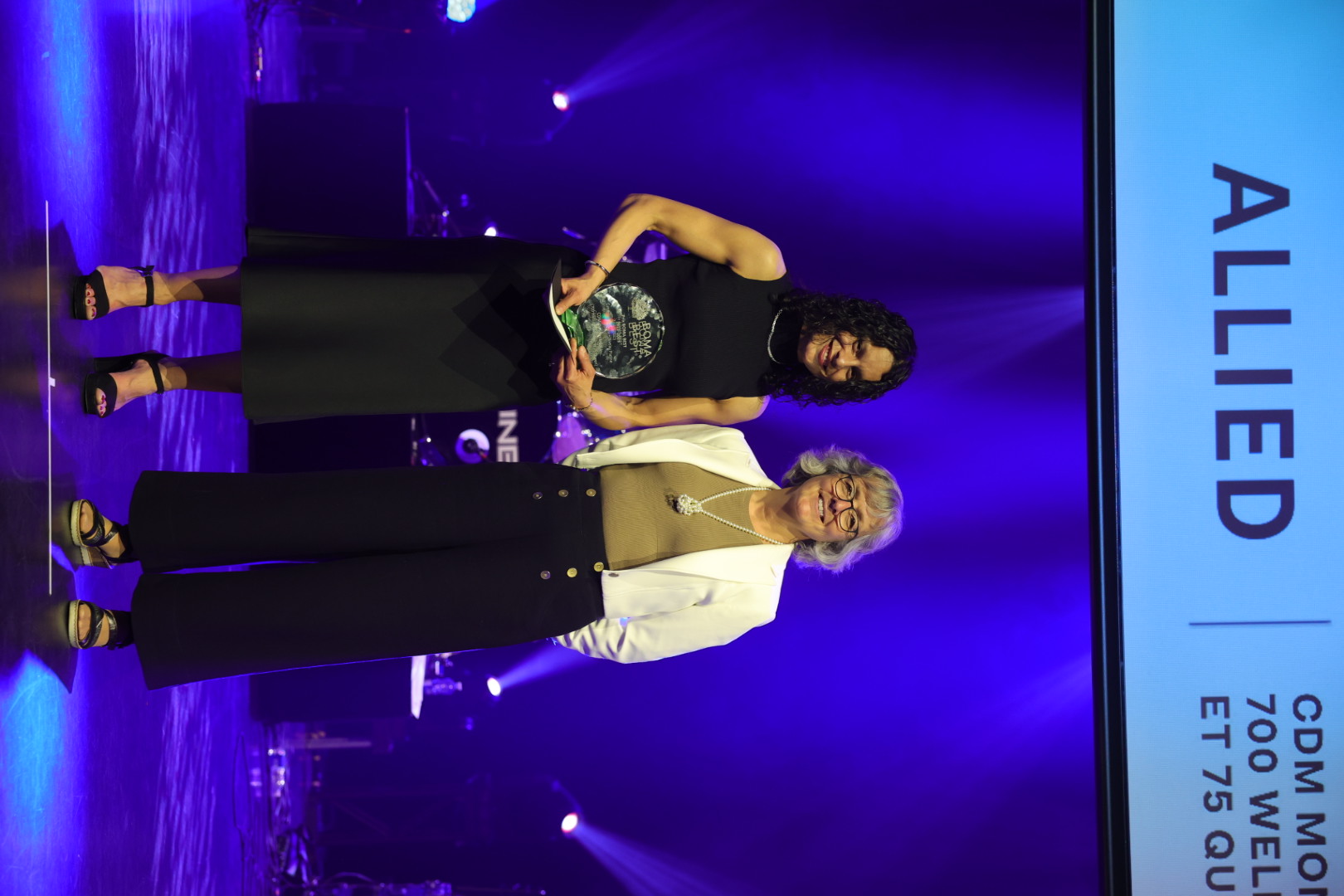 (The Allied Properties representative and Ms. Anne-Marie Bélanger, president of Cohésio architecture and member of the competition jury)
PRESIDENT'S AWARD and the EXCEPTIONAL VOLUNTEER AWARD
The President's Award, given to a volunteer member who has distinguished himself/herself with outstanding commitment, dedication and contribution to the organization, was won by Mrs. Annik Desmarteau, past President, Vice-president, Quebec offices, Ivanhoé Cambridge. The Exceptional Volunteer Award acknowledges the commitment of a volunteer who has distinguished himself or herself over the past year. It was given to Mr. Jean-Michel Champagne, member of the Integrated Technical Management Commitee and Responsible for sustainable development and lecturer at HEC Montréal, as well as to Mrs. Danielle Jacques, Chair of the Golf Quebec metropolitain Commitee and Director, Property Management, Desjardins Group. The award automatically qualifies the two recipients to represent Quebec for the BOMA Canada Member of the Year award this autumn.
Note that the 2023 award winners now qualify for the national competition, which will take place in Edmonton from September 26 to 28 as part of the BOMEX conference. Good luck to one and all!
BOMA BEST CERTIFICATIONS
During the event, BOMA Quebec also revealed the names of the most recent recipients of BOMA BEST environmental certification for commercial buildings. Our congratulations to the following firms:
CERTIFIED LEVEL
Fiera Real Estate / Colliers
520-534, Rue McCaffrey
4041, Rue Sere
4060-4150, Rue Sere
77, Boul Brunswick-2-4-6 Hotel De Ville
65 Avenue Liberté
888 boulevard Industriel
4085-4155, Rue Griffith
380-410, Rue McCaffrey
JLL
7210 Frederick-Banting
2800 avenue Marie-Curie
7150 Frederick-Banting
1660 Eiffel
290 Guthrie
Immostar
2400 avenue Watt
SILVER LEVEL
Allied REIT
5445 de Gaspé
5455 de Gaspé
5505, boulevard St-Laurent
BGIS
Centre Bisson
Cadillac Fairview
CF Promenades Saint-Bruno
Cominar
4 Place Laval
5 Place Laval
3400 Jean-Béraud
Petra Group
1060 Robert-Bourassa
1100 Robert-Bourassa
Westcliff Group
Galeries Terrebonne
Promenades Drummondville
Les Galeries de Granby
Les Immeubles Polaris
1253 McGill College
Société Galion
Le 1611 Crémazie
GOLD LEVEL
BGIS
100 Lafontaine federal building
Desjardins
6125 Wilfrid Carrier
JLL
Galeries d'Anjou
Kevric
600 de la Gauchetière
1100 Atwater
Loto-Québec
Salon de Jeux de Trois-Rivières
Société des Casinos du Québec
Hilton Lac Leamy
PLATINUM LEVEL
Allied REIT
Cité du Multimédia – 111 Robert-Bourassa
Cité du Multimédia – 75 Queen et 700
Wellington
Cité du Multimédia – 50 Queen
Cité du Multimédia – 80 Queen et 87 Prince
BGIS
Federal building - Réal - Caouette (151 avenue du Lac)
Fonds immobilier de solidarité FTQ
Louis Laberge Building
Petra Group
Le 1000 De La Gauchetière
Place Victoria
Société des Casinos du Québec
Casino Lac Leamy
NEW: BOMA BEST SMART – SILVER LEVEL
As a result of BOMA Canada's pilot project for the new BOMA BEST SMART certification, three buildings will receive certification this year, including the very first silver building in Quebec:
Ivanhoe Cambridge
Place Ville Marie
Congratulations to all the winners and certified buildings of the evening!