Montreal, 10 April 2019 – The annual general meeting of BOMA Quebec took place on April 9, when some 75 participants met at the Viandes et Vins Grinder restaurant for cocktails and a brief recap of our how things stand for the Association.
"BOMA Quebec has had a very satisfying year. We welcomed 28 new members, had more than 3250 participants involved in 28 activities we organized, awarded 106 BOMA BEST® certifications and launched the Building Energy Challenge, the first pan-Quebec energy efficiency competition for the commercial, institutional and multi-residential real estate sector. We surpassed our initial objective of 100 participating buildings, and now have 157 buildings at the starting line for Year 1. It is something the entire team is very proud of," said Bruno Turcotte, president of BOMA Quebec. "The first presentations of the new Great Speakers series attracted 246 participants, another impressive success. The presentations will continue in 2019-2020. We are also organizing 11 BOMidi events, 3 technical visits of the Maison symphonique, the Maison Manuvie and the Biodôme, as well as other activities that will help us hone our skills and enrich our business relations," he added.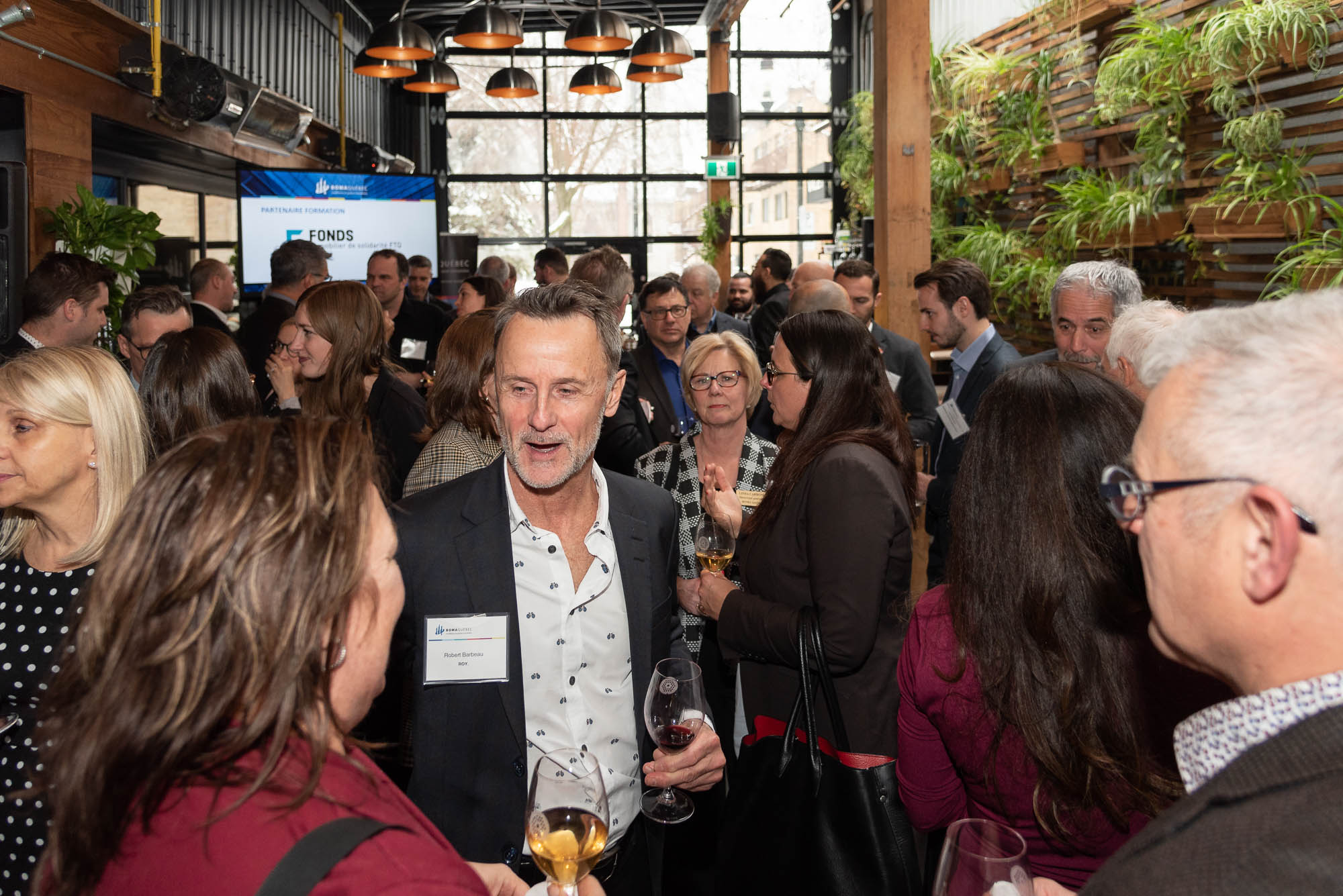 During the cocktail reception, three new directors were named to the Board for a two-year period. They are Claude Décary, president and general manager, Bouthillette Parizeau, Marie-Claude Lavoie, associate vice-president, Facilities Management, Concordia University and Michael Di Grappa, senior vice-president, Property Management, Canderel Management Inc. The re-elected Board members are Christopher Arnaoutelis, senior manager, Construction, Gestion immeuble Place Bonaventure, Annik Desmarteau, acting vice-president, Ivanhoe Cambridge (Offices, Quebec) and Steve Poulin, director, Société québécoise des infrastructures. Pierre Scott, senior account manager – Canada Johnson Controls, was named the Association's ambassador.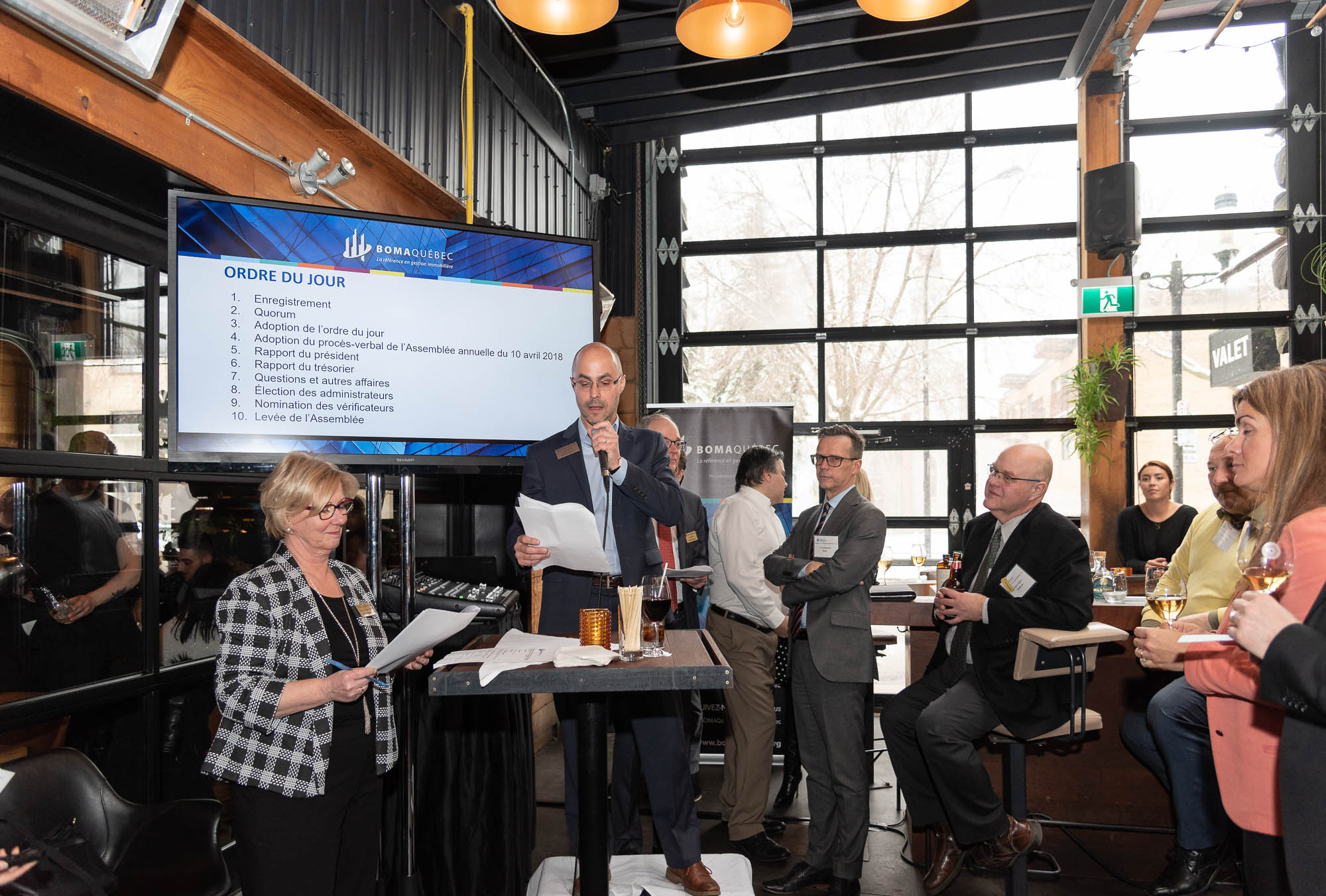 The meeting concluded with the announcement of projects for the year to come, including the first awards gala for the Building Energy Challenge and the BOMA Awards gala.
2019-2020 BOMA Quebec Board of Directors:

Administrators
President
Bruno Turcotte, BAA, E.A.
Senior Director, Real Estate Assets Management
La Capitale Insurance and Financial Services
1st Vice President
Annik Desmarteau
Acting Vice President, Offices, Quebec
Ivanhoe Cambridge
Vice President
Linda Plante, CPA, CMA
Senior Advisor, Assets Management
Fonds immobilier de solidarité FTQ
Secretary-Treasurer
Christopher Arnaoutelis, B. Comm.
Senior Manager, Construction
Gestion Immeuble Place Bonaventure Inc.
Outgoing President
Dominic Gilbert, BAA
Vice-president, Operations
Carbonleo
Executive Director
Linda Carbone, CAE
BOMA Quebec
Directors
Claude Décary, Eng., Bouthillette Parizeau
Dany Gauthier, CGA, CPA, Groupe immobilier Desjardins
Caroline Girard, Devimco
Michael Di Grappa, Canderel Management
Marie-Claude Lavoie, Concordia University
Joseph Pincin, RPA, CPM, Oxford Properties Group
Steve Poulin, Eng., Société québécoise des infrastructures
Jocelyn Trottier, Quebec president, GDI Integrated Facility Services
Ambassador
Pierre Scott, Eng., Johnson Controls
Governors
Burtsel H. Carrigan
Anne Marie Guèvremont, RPA, CCPM, GWL Realty Advisors
Jocelyn Lafond, BAA, Aquilini Investment Group
John Rosato, Ivanhoe Cambridge
BOMA Quebec
BOMA Quebec is the largest association of commercial property owners and managers in Quebec, and its members own or manage 85% of Class A office buildings in the province. A leader in the field since 1927, BOMA Quebec has developed a reputation for excellence in property management and for increasing the value of real estate assets. The Association promotes the principles of efficient, effective and responsible building management, notably with BOMA BEST®, an avant-garde environmental certification program now recognized throughout the real estate industry. www.boma-quebec.org
- 30 -
Source: BOMA Quebec | boma-quebec.org
Information:
Linda Carbone
Executive Director
514 282-3826, ext. 2012
lcarbone@boma-quebec.org