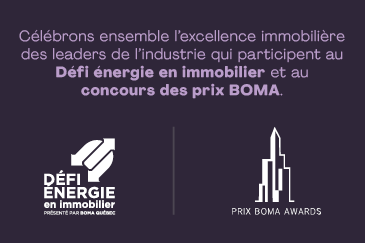 Thursday, May 13 - from 5 p.m. to 6:30 p.m.
VIRTUAL GALA


Detailed Schedule
From 4:45 to 5:00 p.m. - Branchement à la plateforme
From 5:00 p.m. to 6:25 p.m. - Gala and awards ceremony
From 6:25 p.m. to 6:30 p.m.- Words of thanks
We proudly invite you to a unique hybrid event to celebrate real estate excellence and reward the industry leaders who participate in the Building Energy Challenge and the BOMA Awards competition.
We are extremely pleased to announce the honorary presidency of Mr. Yves-André Godon, General Manager, Quebec, BentallGreenOak.



Come and discover the Year 3 champions of the Building Energy Challenge, recognize the efforts of BOMA BEST certified and celebrate the winners of the 2021-2022 BOMA Awards competition.
An extraordinary virtual gala during which we have some nice surprises in store for you! This is an event not to be missed!

Reminder to candidates:
BUILDING ENERGY CHALLENGE
- Deadline to register and complete the data entry for year 3: February 28, 2021
- Details and registration: https://buildingenergychallenge.ca/participer/

BOMA PRIZE COMPETITION
- Submission of applications: March 19, 2021
- Details and registration: https://www.boma-quebec.org/boma-awards
For information: 514 282-3826


* Can't be paid with ticket
Member
0.00 $
AWARD REGISTRATION