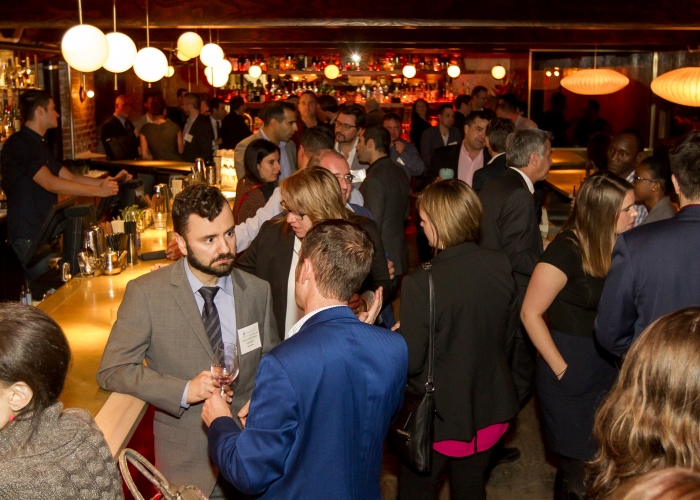 1909 Taverne moderne
1280 Avenue des Canadiens-de-Montréal, Montréal, H4B 5G0
Detailed Schedule
5 p.m.: Registration

5:30 p.m.: Start of cocktail

7 p.m. : End of cocktail


A happy hour cocktail for next generation managers, students and real estate professionals. The BOMA Quebec Young Professionals cocktail reception is an excellent opportunity to build up your network in a relaxing atmosphere.
Mix business and pleasure as you also attend the Communiquer autrement lecture on developing your personal brand and the importance of good communication. Presented by Farès Chmait, executive coach, guest speaker and author.
The goal of communicating differently is to know how to influence with integrity, while respecting the comfort and well-being of the person you are addressing. It is the art of speaking the language of those who are listening to you. The presentation provides a concrete approach to developing personal leadership, as well as verbal and non-verbal communication tools. Learn how to express the special skills that you have to offer, and to promote your personal brand with an eye to advancing your career.
These tools can be put to good use in all aspects of your life – professional, social and personal.
Welcome to one and all!
If you wish to pay with tickets, note that this event requires 1 BOMA Event ticket**.
Training and Conference PARTNER


* Please advise us of any food intolerance or allergy
**Only BOMA Québec members can purchase a 10-ticket BOMA Event booklet. The value of one (1) ticket = $62.50
Registration is mandatory even for ticket holders!
Click here to purchase ticket booklets.
Member
65.00 $
Exclusivité Relève
65.00 $