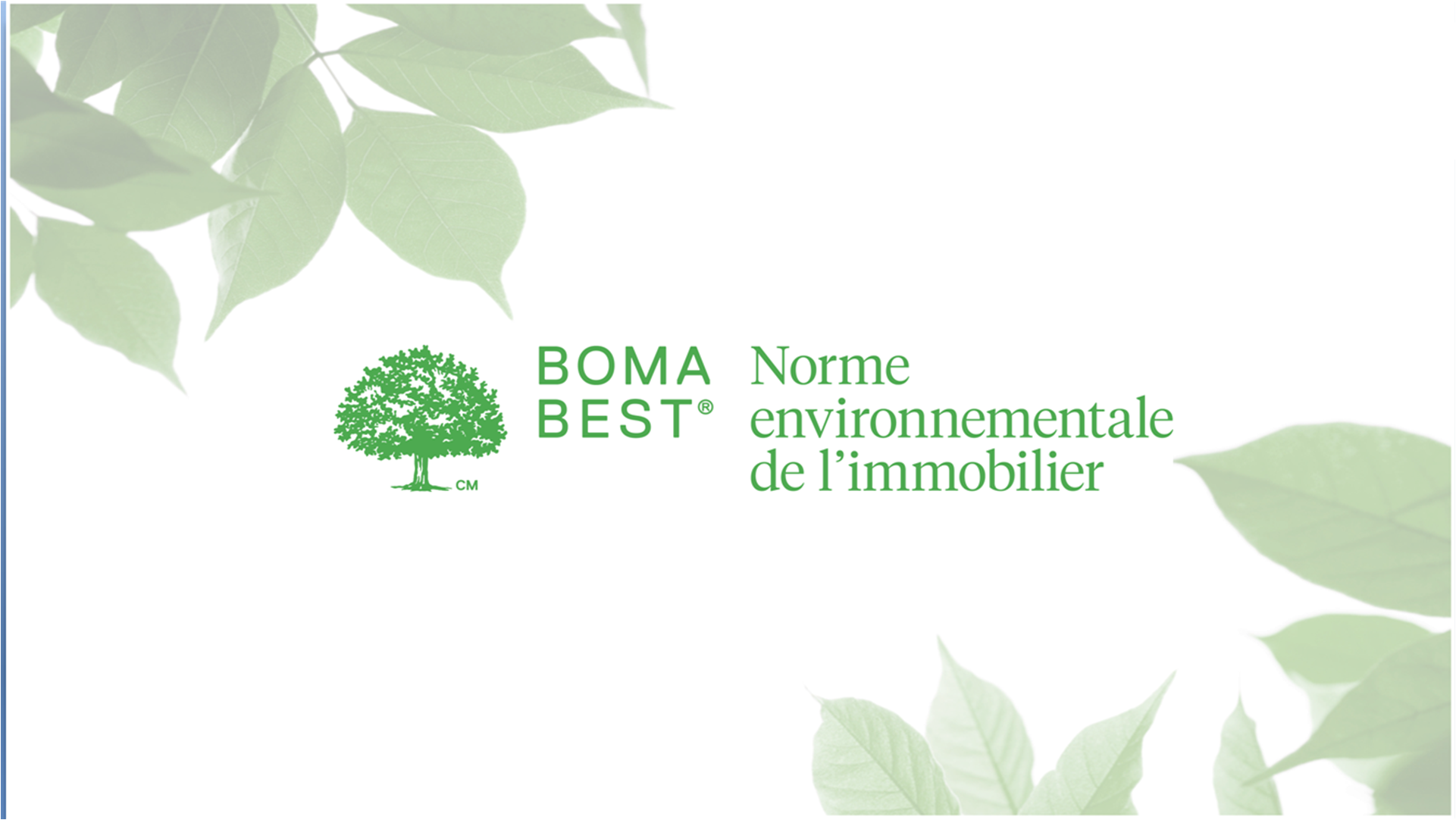 Lobbies of certified buildings across the province
11:30 a.m. to 1:30 p.m.
Be on the lookout April 23! Management teams BOMA BEST® certified buildings throughout Quebec will celebrate Earth Day by making occupants aware of the efforts they deploy every day to provide a safe and environmentally friendly workplace.

BOMA BEST
®
is one of the most well established certification programs in the Canadian real estate industry. But, although it is widely known by building owners and managers, most building occupants or tenants either don't know it or don't understand how it works.
That's why BOMA Québec is piggybacking on EARTH DAY and organising a public event that will take place at lunch time in certified buildings. The objective is to increase BOMA BEST®'s notoriety while recognizing the management teams' efforts. To that end, we are asking building management teams in certified buildings to reserve a space in the entrance lobby for each participating building on April 23, and to provide tables, chairs, banners, etc. plus personnel to greet occupants and answer questions about your building.
BOMA Quebec will provide participating teams with the following:
promotional materials in the BOMA BEST® colours to be handed out to occupants;


digital graphics files so that you can produce visual elements appropriate to your building (e.g. self-supporting banners, wall posters, etc.);
PowerPoint presentation explaining the program, including a section that you can personalize to promote the merits of your building;
a checklist of program highlights to help the people manning your kiosk;
models of press releases announcing the event to send to the occupants of your building;
an example of a kiosk, and a guide to help inspire you.
Teams will be free to embellish the kiosk and lobby display as they see fit. We encourage participants to send us photos of their kiosk, which will then be posted on the BOMA Quebec website and posted in the next issue of BOMA Info following the event.
We invite you to visit one of the participating buildings on April 23. While you're there, take a photo and tweet it to #BOMABEST We'll be sure to retweet you!
Présenters