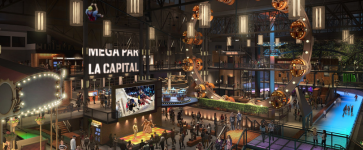 5:30 to 7:30 p.m.
Galeries de la Capitale
5401 boul. des Galeries, Quebec City
Entrée G
Schedule
5:30 – Welcome and cocktail dinner*
6:00 to 6:30 – Presentation of certificates
7:30 – End of activity
Join us in paying tribute to the commitment of those whose buildings were recently certified BOMA BEST®, as we get Christmas celebrations underway with colleagues and friends. Relax, share a few laughs and enjoy the company of industry colleagues.
Reserve your places now. Recapture your childlike spirit with free rides at Mega Parc!
LIKE TO BE A PARTNER OF THIS EVENT? Click here to consult our visibility plan.
event Presenter

SOCIAL PARTNER

*Please inform us if you have any food allergies or intolerances.
**Only members of BOMA Quebec may purchase booklets of 10 tickets. The value of 1 ticket = $65. Registration is mandatory for ticket holders!
Click here to purchase a booklet of tickets.
Note that you can cancel your ticket up to 72 working hours before the event.
If you wish to pay with tickets, note that this event requires
2 BOMA Event tickets**.