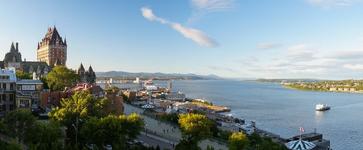 January 25, from 11:30 am to 2:00 pm
Delta Quebec Hotel - Lauzon Room
690 René Levesque Boulevard East
Quebec City, QC G1R 5A8
Detailed schedule :
11:30 am - Welcome
12:00 pm - Lunch*
12:45 pm - Presentation
14:00 pm - End of the activity
This conference will analyze recent data on the real estate market in Quebec City. It will also provide an opportunity to take a look at recent trends in the sustainable development components that characterize today's major real estate projects.
Our speaker :
Benoît Longchamps
Director of the Major Projects and Land Development Division
City of Québec

Training and conference partner

DID YOU KNOW?
This activity could be recognized for your continuing education. Simply request a certificate of attendance at the end of the activity and present it to the organization concerned to obtain recognition. Please contact your professional order to validate if the proposed activity is accepted.
*Please advise us of any food allergies or intolerances
** Only BOMA Quebec members can purchase booklets of 10 tickets. The value of one (1) ticket = $65

Registration is still required for ticket holders!
Click here to purchase a booklet
If you wish to pay with tickets, note that this event requires
1 BOMA Event ticket**.