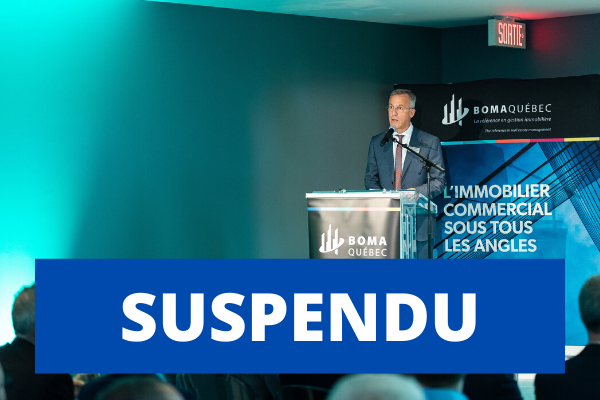 From 2:30 to 8:00 PM

Salle Albert-Rousseau
2410 Chemin Ste-Foy, Québec, QC G1V 1T3

Detailed schedule
2:30 to 3:00 pm. - Registration
3:00 to 3:45 p.m. - Circular Economy

3:45 to 4:30 p.m. - Modeling technology

4:30 to 4:45 p.m. - Break
4:45 to 5:30 p.m. - The 5S methodology

5:30 to 7:30 p.m. - Cocktail
Presentation 1 - The Circular Economy: How to avoid going around in circles
The concept of the circular economy is increasingly proposed as a solution to waste, a way of rethinking our methods of production and of reducing our carbon footprint. It is sometimes difficult, however, to comprehend the impact of that concept on property management.
Based on studies carried out by HEC Montreal, this lecture will portray key elements of an integrated, functional strategy to help building owners and managers adopt a circular economy approach.
Guest Speaker: Jean-Michel Champagne, M.Sc., MBA, Sustainable Development Coordinator, HEC Montreal.


Presentation 2 - Modellization Technology
This presentation on construction technologies aimed at improving operations and maintenance will include the following:
Introduction to the BIM approach to data for operations and maintenance
Overview of the benefits of 3D modellization and data for building operations and maintenance
CMMS (Computerized Maintenance Management Systems) link to 3D models
Accessing data on tablets and smart phones
Examples of technical equipment and mechanical rooms
Tips and best practices for effective implementation
Possibilities for integrating various technologies (IoT, censors, etc.).
Guest Speaker: Lieu Dao, Innovations Manager, R&D and special projects, Pomerleau.


Presentation 3 - 5S Methodology in Property Management
How to increase the efficiency and security of your operations and maintenance teams by using 5S methodology:
Contribute to a good working environment;
Eliminate pointless activities;
Simplify work organization;
Use specific terminology for more efficient file management;
Improve inventory management;
Challenges involved in implementing a 5S approach.
Guest Speaker: Bruno Meunier, vice-president, Operations, Kevric


DID YOU KNOW?
This activity could be recognized for your continuing education. All you have to do is ask for a certificate of attendance at the end of the activity and submit it to the concerned organization for recognition. Please contact your professional order to validate if the proposed activity is accepted.
Training and conferences Partner


* Please advise us of any food intolerance or allergy
**Only BOMA Québec members can purchase a 10-ticket BOMA Event booklet. The value of one (1) ticket = $65.00
Registration is mandatory even for ticket holders!
Click here to purchase ticket booklets.
If you wish to pay with tickets, note that this event requires
2 BOMA Event tickets**.