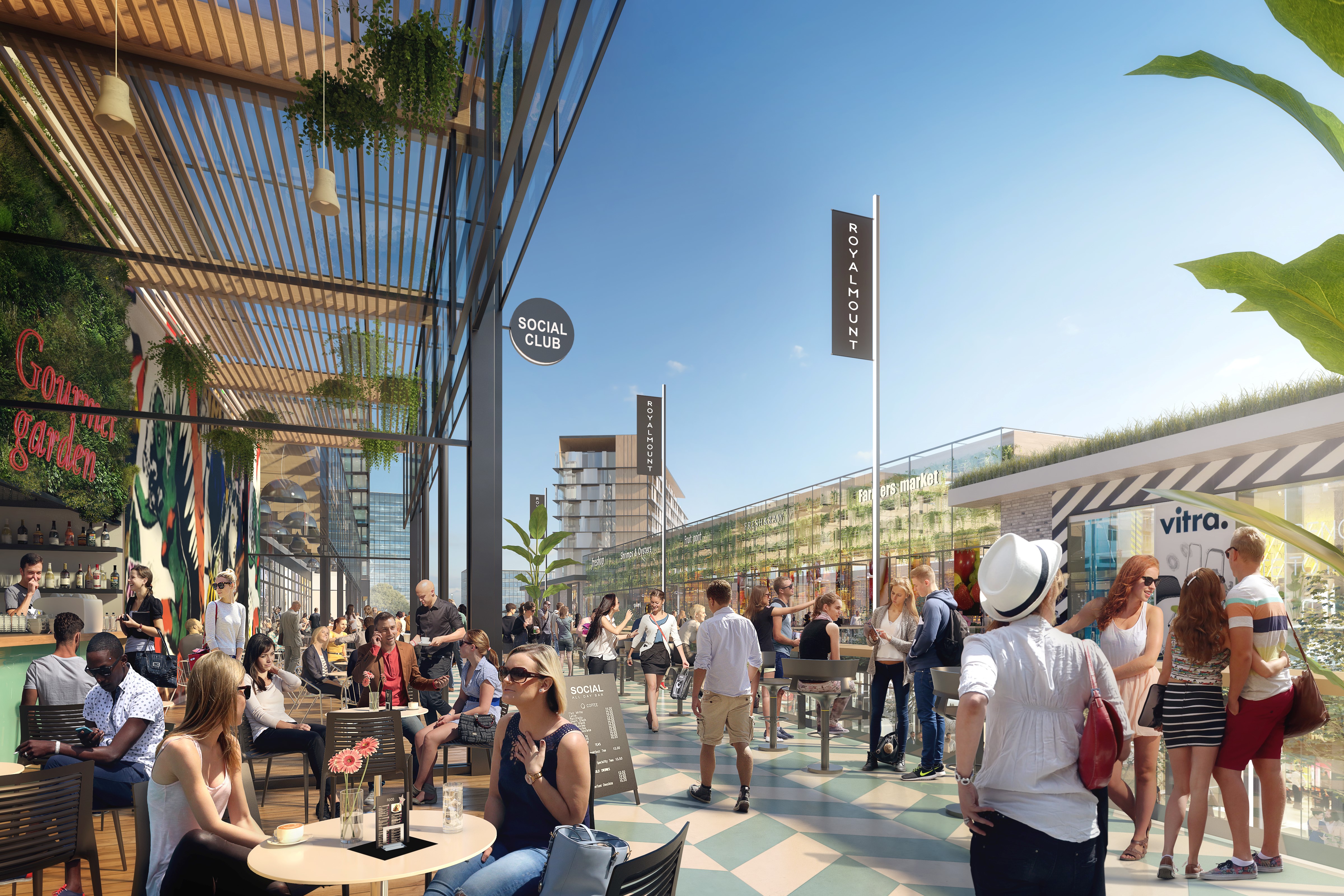 11:30 a.m. to 2 p.m.
INTERCONTINENTAL MONTREAL
Salle Nordheimer
360 St. Antoine West, Montreal, H2Y 3X4


Schedule:
11:30 - Welcome and cocktails
12:00 - Meal service*
12:45 - Presentation
2:00 - End of activity
Eco-innovation in the Heart of Montreal
Royalmount was born of a desire to create an inviting, eco-responsible, innovative lifestyle and shopping hub that reflects the best that Montreal has to offer.
Located in Ville Mont Royal at the junction of Highways 15 and 40, it will completely rejuvenate one of the biggest heat islands in Montreal. The objective of the Royalmount project is to stitch up the cracked canvas that for decades has geographically separated West Island towns and neighbourhoods from the rest of the city. Anchored in current realities and responding to the needs of tomorrow, Royalmount will place the well-being of individuals at the very core of its mission.
Defying all conventions, it will be an inspiring tourist destination and cultural and urban crossroads that promotes human vitality and growth. Royalmount will offer the ultimate Montreal experience: exciting cultural events, rest areas, restaurants, boutiques, green spaces, hotels and offices, all constructed using best practices in environmental technology, sustainable development and active green mobility.
Speakers :
Dominic Gilbert , Vice-president – Operations at Carbonleo
Training and Conference PARTNER


* Please advise us of any food intolerance or allergy
**Only BOMA Québec members can purchase a 10-ticket BOMA Event booklet. The value of one (1) ticket = $65
Registration is mandatory even for ticket holders!
Click here to purchase ticket booklets.
Did you know?
This activity may be eligible for a continuing education credit. At the end of the event, ask for a certificate of attendance and send it to the relevant organization to obtain a credit****.
**** According to the period of reference and the subjects specified in the regulations in effect at that organization. Contact your professional order to make sure that it meets the criteria for a recognized activity.
If you wish to pay with tickets, note that this event requires
1 BOMA Event ticket**.