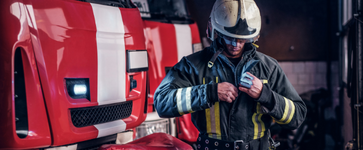 From 4:00 pm to 7:00 pm
Flex - Place Ville Marie
1 Place Ville Marie, 29th floor, Suite 2970, Montréal, QC H3B 2B6
Detailed schedule :
4:00 to 4:30 p.m. : Welcome
4:30 to 5:30 p.m. : Conference
5:30 pm to 7 pm : Cocktail
7:00 pm: End of the activity
The Building Management Committee is pleased to invite you to an impressive presentation by the SIM (Montreal Fire Service).
The SIM is responsible for protecting the Island of Montreal, which covers a 500 km2 area and includes some 400,000 residential, commercial, industrial and institutional buildings, as well as almost 1,900,000 inhabitants. Montreal also has a substantial underground network, 30 km of corridors, passageways and shopping malls. In addition, the downtown core includes hundreds of high-rise buildings. In light of these and other features, the SIM has various specialized teams that allow the organization to respond in timely and appropriate fashion to situations that arise within its territory.
The presentation will describe in greater detail the various steps and actions taken when the Fire Service receives a call regarding incidents in high-rise buildings. It will cover:
The Fire Service and its different divisions and their connection to BOMA Quebec stakeholders.
Operational functions of firefighter units (fire trucks and crews) during emergencies.
Call reception unit: How to maximize resources.
Call closure: Handover and transfer of responsibility.
Prevention: How to prepare (preventive planning).
The presentation will be followed by a question period.
Guest Speaker:
Presenter: Benoit Leclerc, Chief of Operations, Training Division, City of Montreal
PARTNER Training and conference

* Please inform us of any allergies or food intolerance.
** Only BOMA Quebec members may purchase booklets of 10 tickets. The value of each ticket is $65.
Registration is mandatory for ticket holders!
Click here to purchase a booklet
Did you know?
By attending this activity, you might be eligible for a continuing education credit. Simply ask for a certificate of attendance at the end of the event and present it to the accrediting organization.****.

**** According to the reference period and the subjects specified in the regulations of each organization. Please contact your professional order to validate that the activity corresponds to a recognized type of activity.
If you wish to pay with tickets, note that this event requires
1 BOMA Event ticket**.