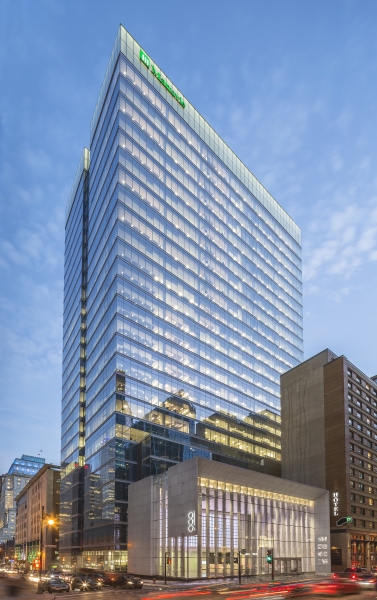 2:30 to 7 p.m.
Maison Manuvie
900 de Maisonneuve Blvd. West
Montreal (Quebec) H3A 0A8
The BOMA Quebec young professionals, building management and integrated technical management committees have joined forces to offer members this interesting and informative activity.
The presentation will provide an overview of the net zero building, an issue at the heart of new technologies, as well as a technical visit of the building followed by a meet-and-greet in the building's magnificent lobby. The three committees enthusiastically jumped on board to organize this event for you!

Schedule:
2:30 to 3 p.m. - Welcome and registration on the 8th floor
3 to 4 p.m. - Presentation: Achieving Net Zero Building Management
4 to 5 p.m. - Technical tour of 900 Maisonneuve
5 to 7 p.m. - Cocktail reception in the lobby



Reserve your place now!
Achieving Net Zero Building Management
The arrival of buildings that produce as much energy as they consume brings new challenges for building managers. This presentation will outline the operational and management issues for high performance buildings, bearing in mind that energy consumption is such buildings is increasingly the reflection of the behaviour of its occupants.
Guest speaker: MARTIN ROY, Eng., LEED AP and LEED Fellow, President and founder of Martin Roy et Associés
Exclusive Visit of Maison Manuvie!
Take advantage of the opportunity to visit the new Quebec head office of Manulife, a high performance building that incorporates the latest leading edge technologies. Maison Manuvie is an AAA category office building. It sets a new standard for the Montreal business milieu and is part of the Ivanhoe Cambridge urban planning program, the goal of which is to revitalize downtown Montreal.
Construction began in 2014, and the building was inaugurated with great fanfare in November 2017. It was designed by the architectural firm Menkès Shooner Dagenais Letourneux.
If you wish to pay with tickets, note that this event requires 1 BOMA Event** ticket.
Training and Conference PARTNER


* Please advise us of any food intolerance or allergy
**Only BOMA Québec members can purchase a 10-ticket BOMA Event booklet. The value of one (1) ticket = $62.50
Registration is mandatory even for ticket holders!
Click here to purchase ticket booklets.
Did you know?
This activity may be eligible for a continuing education credit. At the end of the event, ask for a certificate of attendance and send it to the relevant organization to obtain a credit****.
**** According to the period of reference and the subjects specified in the regulations in effect at that organization. Contact your professional order to make sure that it meets the criteria for a recognized activity.