A Year of Transition and a gradual Return to Normal
Montreal, 25 October 2023 - BOMA Quebec is pleased to announce the winners for Year 1 of the second edition of the Building Energy Challenge (BEC 2.0), those who stood out with their impressive performance throughout 2022. Launched in 2018 and renewed 4 years later with a 2nd edition, this convivial, innovative competition aims to reduce energy consumption and greenhouse gas emissions (GHGs) in commercial, institutional and multi-residential buildings across Quebec.
Winners were announced during the Energy Challenge Rendezvous. In attendance were several building owners and managers, as well as key players in building energy management.
The event took place in two parts. During the afternoon, participants were invited to Innovation and Carbon Neutrality presentations, an important annual event for everyone involved in energy transition in Quebec buildings. The initiative brings together property managers committed to reducing GHG emissions with diverse specialists who can support their efforts in that regard. Four firms were selected to present their innovations during the event: Ambioner, SUNBIRD Énergie, ECOTIME and gbi. Interesting lectures and discussions and, above all, much food for thought as we continue our efforts to decarbonize buildings.
At the end of the afternoon there was a cocktail reception, where awards were given to the winners in five BEC categories.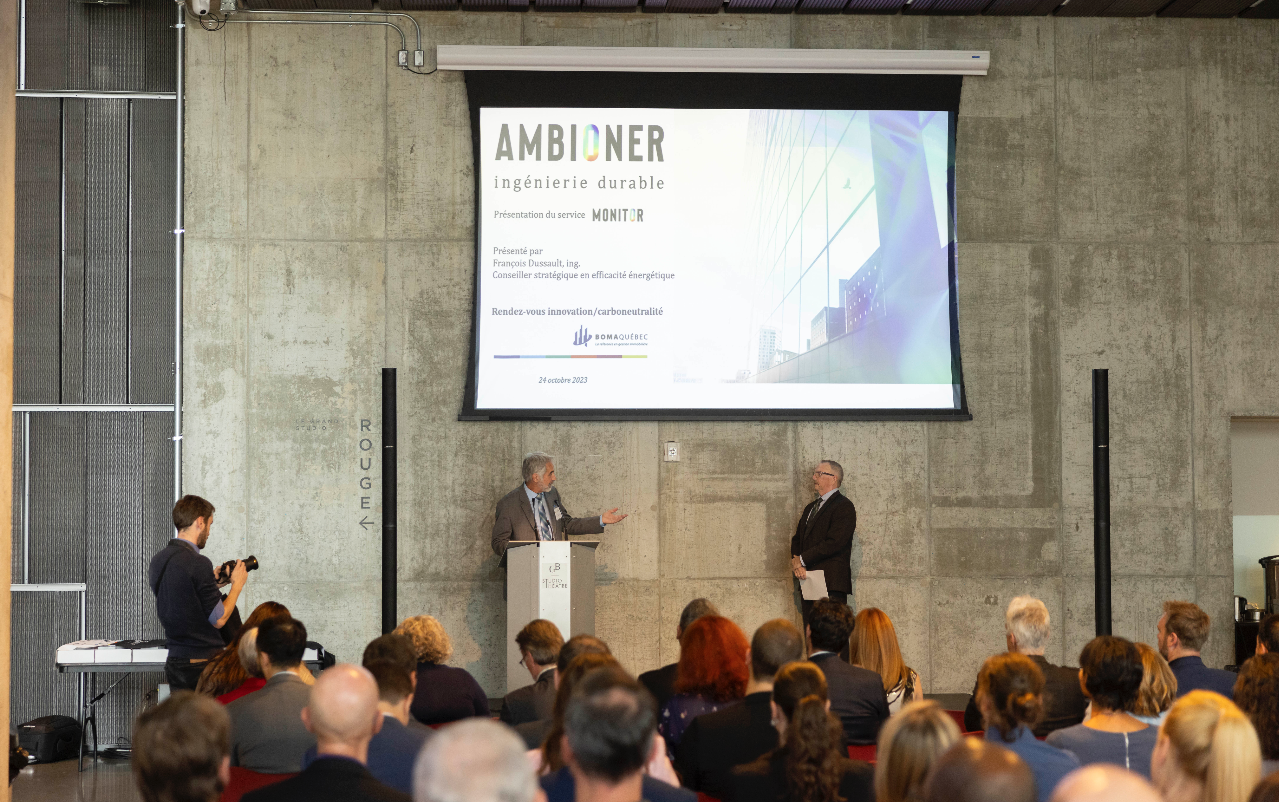 Highlights:
PROFILE OF PARTICIPANTS
242 eligible participants shared their energy consumption data, which was an increase of 13% compared to 2021.They are located across the province: 132 participants in Montreal, 25 in Quebec City and 85 others in 63 municipalities.
They are in all sectors of real estate activity: mixed-use buildings (29 participants), office buildings (129 participants), the education sector (18 participants), health care (2 participants), condos and apartments (20 participants) and universal buildings (44 participants).
RESULTS BELOW EXPECTATIONS FOR 2022, BUT A POSITIVE TREND OVERALL
The 2022 results did not meet the expectations of BEC 2.0 organizers, but that can be explained. With 2022 marking a return to a certain normality, a return to normal building operations was inevitable.
The underlying premise of the BEC is ongoing improvement from year to year. The reference year for 2022 was 2021, so the overall results obviously show a deterioration in the Energy Intensity and GHG Intensity indicators. What we observed was this:
An overall increase in energy intensity of 6% compared to 2021 (0.84 GJ/m2 0.80 GJ/m2)
An overall increase in GHG intensity of 5% compared to 2021 (9.14 kg CO2e/m2 8.70 kg CO2e/m2)
Several things are going very well, however:
46 buildings reduced their GHG emissions by 10% or more.
24 buildings reduced their energy intensity by 10% or more.
129 buildings (53%) use electricity as their main energy source, at over 95%.
When the BEC was launched in 2018, that year was also our ultimate benchmark for participant performance. For the 167 buildings submitting data since 2018, we note:
An overall improvement in energy intensity of 13% in 2018 compared to 2022 (0.93GJ/m2 0.80GJ/m2)
An overall improvement in GHG intensity of 18% in 2018 compared to 2022 (10.40 kg CO2e/m2 8.58 kgCO2e/m2)
2022 WINNERS
COMMITMENT – This award is given to the management company with the most buildings registered in the competition, in recognition of its proactive stance and involvement.
LEADERSHIP IN SOUND ENERGY MANAGEMENT – This award recognizes the efforts of organizations that have demonstrated exemplary energy and operations management, firms whose actions reflect commitment, creativity and consistency.
SUPPLIER MOBILIZATION – This award pays tribute to energy professionals who support participants in their ongoing improvement projects by providing cutting-edge advice and innovative solutions.
IMPROVED GHG PERFORMANCE – This award is given to participants who reduced the greenhouse gas emissions in their buildings below the level registered the previous year. 19 finalists and 9 winners in 5 categories.
Category: Office Buildings of less than 5000 m2
Quebec City office – Énergir
1575 Chomedey – BGIS
Category: Office Buildings, 5000 to 15 000 m2
4060 St. Catherine – Toulon Development Corporation
Le 2475 – Beneva
Category: Office Buildings of more than 15,000 m2
1600 René-Lévesque/980 Guy – BGO
Guy Favreau Complex, West Tower - BGIS
Category: Multi-unit Residential Buildings
Appartements Habitat 2500 – Capreit
Le Métropol – Capreit
Category: Public Services / Education / Leisure
Bureau Mauricie – Énergir
IMPROVED ENERGY PERFORMANCE – This award is given to participants who reduced their energy consumption by a minimum of 10%.
Category: Office Buildings of less than 5000 m2
Category: Office Buildings, 5000 to 15,000 m2
CA (administrative centre), Valleyfield – Hydro-Québec
Category: Office Buildings of more than 15,000 m2
100 des Commandeurs – Desjardins
Category: Mixed-use Properties
CA de Lévis – Hydro-Québec
Category: Public Services / Education / Leisure, less than 5000 m2
Pavillon P (QMD) – École de technologies supérieures
Category: Public Services publics / Education / Leisure, more than 5000 m2
CA de Sept-Îles – Hydro-Québec
INVALUABLE PARTNERS
The BEC is an initiative of BOMA Quebec and its loyal partners, including our main partners: the City of Montreal, Hydro-Québec and the Ministry of the Environment, Climate Change, Fauna and Parks; our associate partners Énergir and the Société québécoise des infrastructures; and our supporting partner Sofiac , as well our media partners Voir vert and Gestion immobilière.
''On behalf of the entire Building Energy Challenge team, I would like to congratulate the winners for Year 1 of this 2ndedition. I would also like to give our sincere thanks to our partners and all those who are committed to and share our vision and our desire to mobilize the industry, so that we work together to achieve energy transition and the decarbonization of buildings. We are convinced that this competition will contribute in concrete fashion to reducing energy consumption and GHG emissions in the real estate sector, in addition to achieving the targets set by government authorities,'' said Linda Carbone, executive director of BOMA Quebec.