Montréal, 9 juin 2022 – BOMA Quebec had the pleasure of highlighting the environmental commitment of 45 buildings in Quebec during a BOMA BEST® certification ceremony held as part of the Energy Challenge Gala on June 7 in Montreal. This event - the culmination of the 1st edition of the Building Energy Challenge - brought together more than 225 key players in the commercial real estate and energy management sector to celebrate the environmental leadership of many winners.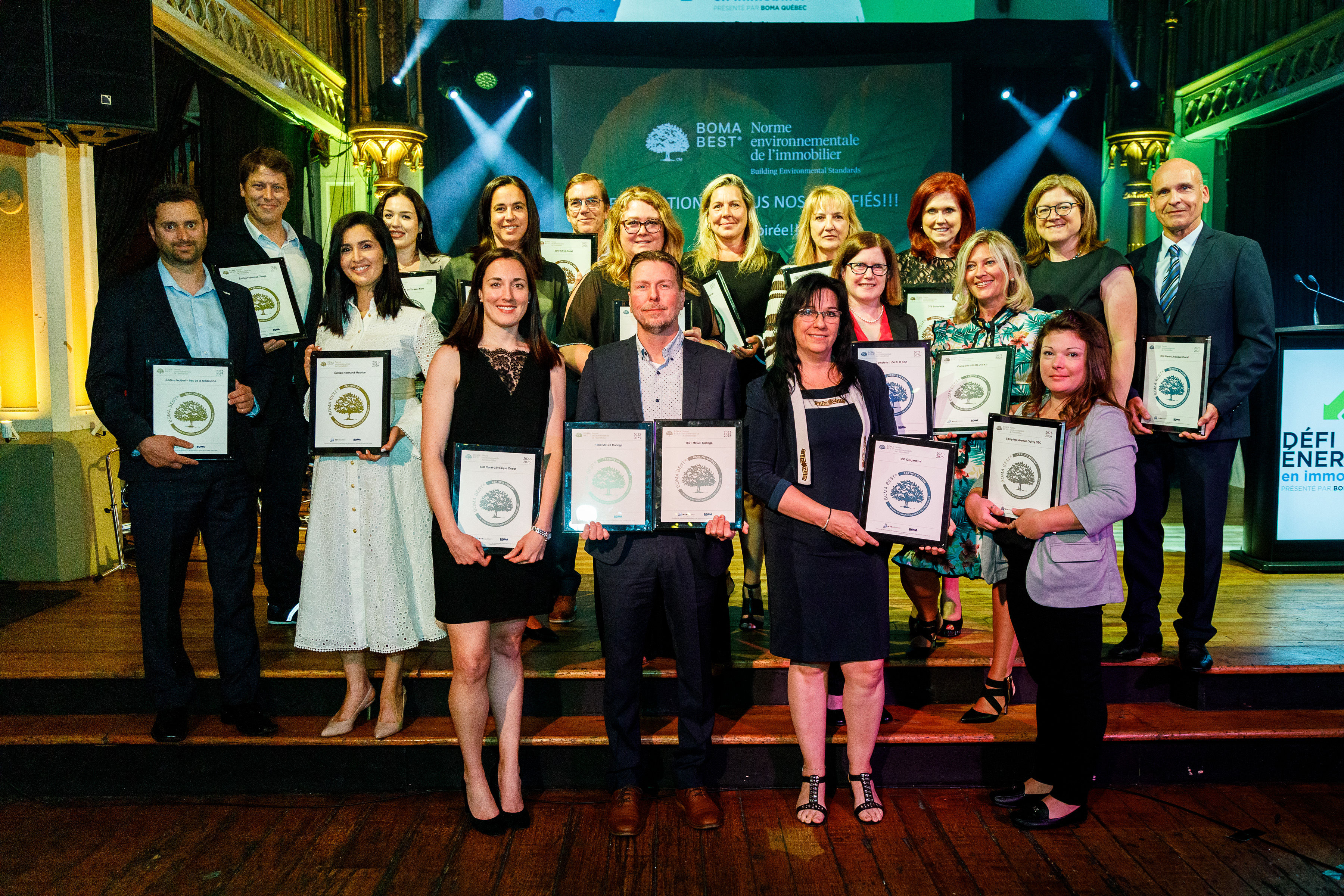 BOMA BEST® is a national certification program launched in 2005 by BOMA Canada. This initiative defines realistic and innovative standards and practices for existing commercial buildings. It ensures rigorous management of air quality, energy, waste materials and preventive maintenance. The certification level is determined by the score obtained by the building during an inspection carried out by an independent expert.
BOMA BEST® remains the most relevant program for the commercial real estate industry to date, with over 3,300 buildings certified in Canada, including nearly 500 in Quebec.
PLATINUM LEVEL
BentallGreenOak
1250, boulevard René-Lévesque
Gestion immobilière Desjardins
995 Alphonse-Desjardins
Groupe Petra
Complexe 1100 RLO SEC
Kevric
Tour Viger


GOLD LEVEL
BentallGreenOak
105 Hotel de Ville
BGIS
Édifice Frédérica Giroux
Édifice fédéral – Havre St-Pierre
Édifice fédéral – îles de la Madeleine
Édifice Normand-Maurice
Hydro-Québec
Centre Administratif de St-Bruno-de-Montarville
Centre Administratif de St-Hyacinthe
Centre Administratif de Trois-Rivières
Centre Administratif de Baie-Comeau
Centre de Service Baie-Comeau
Centre Administratif de Rimouski
Kevric
Place Bonaventure
Loto-Québec
Complexe multifonctionnel de Loto-Québec
Redbourne
1800 McGill College


SILVER LEVEL
BGIS
Bell, 262 Elm, St-Lambert
Bell, 2505 de Celles, Québec
Bell, 133 Hymus, Pointe-Claire
Bell 1310 Marie-Victorin
Place du Centre
Bell 2695/2715 du Versant Nord
Édifice des Douanes
First Capital Realty
Place Cite des Jeunes
Carrefour Plateau des Grives
Groupe Petra
Complexe Avenue Ogilvy SEC
Complexe 555 RLO s.e.c.
Complexe Holiday s.e.c.
Loto-Québec
Le 500 Sherbrooke Ouest
Morguard Investments Ltd.
41 Victoria
Redbourne
630 René-Lévesque Ouest
1801 McGill College
RioCan RioCan
Centre la Gappe
Société québécoise des infrastructures
Édifice Marie-Guyart

BRONZE LEVEL
BentallGreenOak
315 Brunswick
Gestion immobilière Manuvie
2280 Alfred-Nobel
2310 Alfred-Nobel


BASIC CERTIFICATION LEVEL
ChoiceReit
257-345 Boulevard Sir Wilfrid-Laurier
BentallGreenOak
1250 Dagenais
4200-4280 Griffith
7445 Chemin de la Côte-de-liesse
19 700 Clark-Graham
Gestion immobilière Manuvie
7150 Albert Einstei

Our sincere congratulations to all the recipient companies. We would like to highlight the excellence of BentallGreenOak, Gestion immobilière Desjardins, Groupe Petra and Kevric for their PLATINUM certifications, the highest distinction for certified buildings.


About BOMA BEST®
BOMA BEST® is a national program managed by BOMA Canada, in collaboration with the 11 local BOMA associations. It includes a set of common standards, online education and assessment tools, a rigorous data auditing process, and a five-level certification program (Platinum, Gold, Silver, Bronze and Certified). The certification process is based on independently verified information.
About BOMA Quebec
BOMA Quebec is the largest association of commercial property owners and managers in Quebec. Its members own or manage 85% of Class A commercial buildings in the province. A leader in the field since its inception in 1927, BOMA Quebec has developed a reputation for excellence in property management and for increasing the value of real estate assets. The Association also actively encourages effective, efficient and responsible building management,notably with its BOMA BEST® program and the Building Energy Challenge. www.boma-quebec.org.


-30-

Source :
BOMA Québec
Information :
Linda Carbone
General Manager
514 282-3826, #2012
lcarbone@boma-quebec.org