Montreal, 16 December 2021 – BOMA Quebec was very pleased to announce the commitment to the environment demonstrated by 27 buildings across Quebec during the BOMA BEST® certification ceremony that took place in Montreal on December 15, 2021 at its annual Christmas Get Together. The most popular of the association's many events, it attracted some 250 key players in the commercial real estate industry eager to celebrate the holiday season and the bestowing of this prestigious award. The ceremony featured the presentation of many video testimonials from organizations certified BOMA BEST®. These included Ivanhoe Cambridge, the Petra Group and the Fonds immobilier de solidarité FTQ.
BOMA BEST® is a national certification program launched in 2005 by BOMA Canada. This initiative defines realistic and innovative standards and practices for existing commercial buildings. It ensures rigorous management of air quality, energy, waste materials and preventive maintenance. The certification level is determined by the score obtained by the building during an inspection carried out by an independent expert.
BOMA BEST® remains the most relevant program for the commercial real estate industry to date, with over 3,150 buildings certified in Canada, including over 400 in Quebec at present.


PLATINUM LEVEL
Groupe immobilier Desjardins
450 de Maisonneuve


GOLD LEVEL
BGIS
Normand Maurice Building
Choice Properties Reit
The 100 Alexis Nihon
Hydro-Québec
Centre Administratif de St-Bruno-de-Montarville
Centre Administratif de Saint-Hyacinthe
Centre Administratif de Trois-Rivières
Groupe immobilier Desjardins
6075 Wilfrid Carrier
BentallGreenOak
7250 Mile-End
Société québécoise des infrastructures
Scientific Complex
Groupe Petra
KPMG Tower

SILVER LEVEL
BGIS
Centre Asticou
Canada Border Services Building
Choice Properties Reit
The 1010 Sherbrooke West
BentallGreenOak
1600 René-Lévesque Ouest
1616 René-Lévesque Ouest
Société québécoise des infrastructures
Édifice Jos-Montferrand
Westcliff Group
Carrefour du Nord
Société du palais des congrès de Montréal
Palais des congrès de Montréal

BASIC CERTIFICATION LEVEL
Société de gestion Cogir
Château Sainte-Marie
Jazz Lévis (RPADS Proprio 5 SEC)
Résidence Le Jazz Lebourgneuf
Résidences Jazz Ste-Foy
Carrefour Neufchâtel
Choice Properties Reit
Méga Centre Lebourgneuf
6750-6800 Jean-Talon Est
2925 Rachel Est
Mach Group
5160 Décarie Inc. Building
Our sincere congratulations to all the winning firms. We wish to point out the level of excellence of the Groupe immobilier Desjardins. It received Platinum level certification for the 450 de Maisonneuve building, the highest distinction awarded for certified buildings.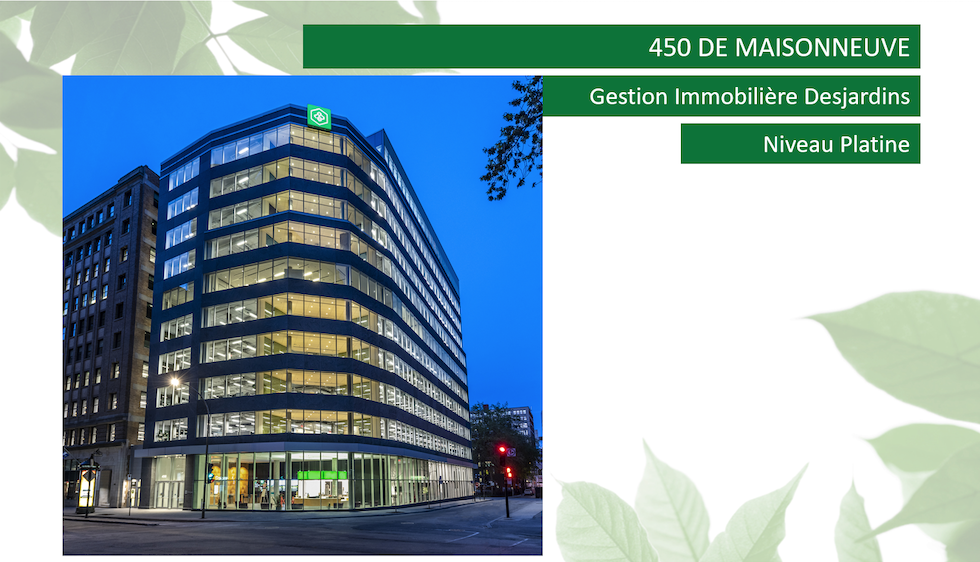 About BOMA BEST®
BOMA BEST® is a national program managed by BOMA Canada, in collaboration with the 11 local BOMA associations. It includes a set of common standards, online education and assessment tools, a rigorous data auditing process, and a five-level certification program (Platinum, Gold, Silver, Bronze and Certified). The certification process is based on independently verified information.
About BOMA Quebec
BOMA Quebec is the largest association of commercial property owners and managers in Quebec. Its members own or manage 85% of Class A commercial buildings in the province. A leader in the field since its inception in 1927, BOMA Quebec has developed a reputation for excellence in property management and for increasing the value of real estate assets. The Association also actively encourages effective, efficient and responsible building management,notably with its BOMA BEST® program and the Building Energy Challenge. www.boma-quebec.org
Source:
BOMA Quebec
For information:
Linda Carbone
General Manager
lcarbone@boma-quebec.org