MONTREAL, 14 May 2021 – BOMA Quebec was very proud to highlight the environmental commitment of several buildings across Quebec on the occasion of the BOMA BEST® certification ceremony held on May 13 as part of the BOMA Quebec Grand Gala. This virtual recognition event, which brought together more than 250 key players in the commercial real estate sector, was an opportunity to pay tribute to industry leaders taking part in the BUILDING ENERGY CHALLENGE, the BOMA BEST certification program and the BOMA Awards.
BOMA BEST® is a national certification program launched in 2005 by BOMA Canada. This initiative defines realistic standards and practices for the energy and environmental performance of existing buildings. It pursues rigorous management of air quality, energy, waste materials and preventive maintenance. The certification level is based on the score obtained by the building during an inspection carried out by an independent expert.
A voluntary program designed by the industry for the industry, the BOMA BEST program is now present in nations around the world, including the U.S., Mexico and even China! Since its début in 2005 it has been the most relevant program for the commercial real estate industry, as evidenced by this international development. There are some 3026 certified buildings across Canada, 413 of them in Quebec.

PLATINUM LEVEL
La Capitale Insurance and Financial Services
La Capitale Groupe Financier – Head Office


GOLD LEVEL
Aéroports de Montréal
YUL Montreal-Trudeau International Airport
BGIS
Édifice Gilles Marceau
Édifice René-Tremblay
Desjardins
200 Des Commandeurs
Hypertec Infrastructure
Centre Hypertec
Société des Casinos du Québec
Casino de Charlevoix
Casino de Montréal
Casino de Mont-Tremblant


SILVER LEVEL
BGIS
Complexe Guy-Favreau
Édifice 50 de la Cité
Édifice Dominique Ducharme
Édifice Fédéral de Chandler
Édifice Jeanne-Sauvé
La maison de l'OACI
Busac Real Estate
Le 1200 McGill College
Carbonleo
8300 Décarie
8500 Décarie
Cominar Real Estate Investment Fund
550 de la Cité, Gatineau
Manulife Investment Management
715 Square Victoria
Redbourne PDP Management
Transat Tower
Immostar
Place de l'Escarpement
The Westcliff Group
Carrefour Angrignon
Loto-Québec
Centre Informatique Pierre-de-Coubertin
SAQ
Montreal Distribution Centre
FCR Management Services
La Porte de Gatineau
Société québécoise des infrastructures
Centre administratif Drummondville
Édifice de l'Atrium
Palais de justice de Montréal
Palais de justice de Val-d'Or

BRONZE LEVEL
ChoiceReit
16900 Rte Trans-Canada
FCR Management Services
Galeries de Lanaudière
Marché Vieux-Longueuil

CERTIFIED LEVEL
102662 Canada inc.
Édifice de la Gare-Talon
Casot Ltée
Complexe Saint-Amable
Équinoxe Laval
Équinoxe Saint-Elzéar 1
Équinoxe Saint-Elzéar 2


Our sincere congratulations to all the winning firms for their leadership. We would like to point out the excellent performance of La Capitale Insurance and Financial Services and its Platinum certification for the organization's head office, the highest distinction for certified buildings.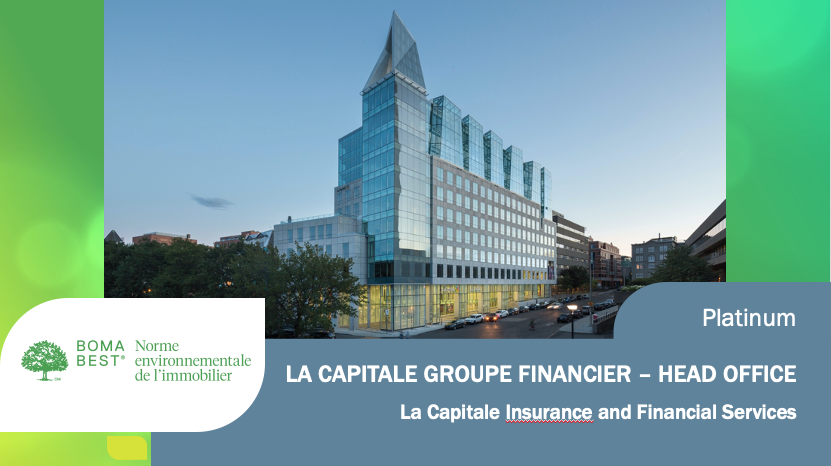 About BOMA BEST®
BOMA BEST® is a national program launched in 2005. It is managed by BOMA Canada in collaboration with the eleven local BOMA associations. It includes a set of common standards; online education and assessment tools; a rigorous data audit process; and five levels of certification. The certification process is based on independently verified information. The five BOMA BEST® levels are: Platinum, Gold, Silver, Bronze and Certified.

About BOMA Quebec
BOMA Quebec is the largest association of commercial property owners and managers in the province, and its members own or manage 85% of Class A office buildings in Quebec. A leader in the sector since its inception in 1927, BOMA Quebec has developed a reputation for excellence in property management and for increasing the value of real estate assets. The Association encourages effective, efficient and responsible building management, notably withBOMA BEST®, its avant-garde environmental certification program now recognized throughout the industry. www.boma-quebec.org


-30-


Source :
BOMA Quebec
For information:
Linda Carbone
General Manager
lcarbone@gestionpga.com