Montreal, 12 September 2019 – BOMA Quebec is pleased to announce that the 150 rue des Commandeurs building received the Building of the Year award bestowed by BOMA Canada as part of the TOBY® Awards. The event took place on September 11 in St. John's, Newfoundland during the BOMEX 2019 conference. Owned and managed by Desjardins Property Management, 150 rue des Commandeurs was the winner in the Corporate Building category.
The Outstanding Building of the Year (TOBY®) award is the most prestigious and comprehensive program of its kind in the commercial real estate industry. It pays tribute to quality in commercial buildings, and rewards excellence in building management.
TOBY® winners are recognized in specific categories of building size or type. Evaluation is based on construction standards, community involvement, tenant relations, energy conservation, environmental, regulatory and sustainability management, emergency preparedness, security standards and training of building personnel.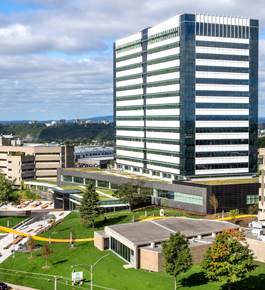 150 RUE DES COMMANDEURS, LÉVIS – Corporate Building
150 rue des Commandeurs is the flagship of the Cité de la coopération Desjardins in Lévis. The 15-storey tower provides an exemplary professional workspace for more than 1500 employees.
Floors 3 to 14 are occupied by various Desjardins subsidiaries such as Desjardins Insurance, Desjardins International Development and Desjardins Financial Security. The top floor is for the executive directors of Mouvement Desjardins.
The building – LEED Gold certification, New Construction – has several common spaces including Place de la coopération, a 120,000 square-foot public space. The new 56,000 sq. ft. building is located in a vast site with half a dozen other buildings, all belonging to Desjardins.
"We are always proud to see colleagues win renown in this competition. Keep in mind that these firms first took top honours at the provincial level in the BOMA Awards Gala organized by BOMA Quebec and presented in May 2019 at the Montreal Casino. They now qualify for the international competition to be held in Philadelphia. On behalf of the entire BOMA Quebec community, I would like to convey our heartfelt congratulations to this magnificent team. We wish them the best of luck at the next stage of this great adventure!" said Bruno Turcotte, principal director of Property Management at La Capitale Insurance and Financial Services, and president of BOMA Quebec.
The list of winning buildings is available on the BOMA Canada website: http://bomacanada.ca/fr/awards/

About BOMA Quebec
BOMA Quebec is the largest association of commercial property owners and managers in Quebec. Its members own or manage more than 85% of Class A commercial buildings in the province. A leader in the sector since its inception in 1927, BOMA Quebec has developed a reputation for excellence in property management and for increasing the value of real estate assets. The Association also actively encourages effective, efficient and responsible building management, notably through BOMA BEST®, an environmental certification program for commercial buildings, now recognized throughout the industry.
- 30 -
Source : BOMA Quebec | boma-quebec.org
Information:
Linda Carbone
Executive Director
514 282-3826, ext. 2012
lcarbone@boma-quebec.org