MONTREAL, Friday, 10 May 2019 – Nearly 350 building owners and managers in the real estate industry were in attendance on Thursday, May 9 at the Montreal Casino Cabaret for the 2019-20 BOMA Quebec Awards Gala. This prestigious biennial event pays tribute to excellence in property management, and is the point of departure for a competition that will see the winning organizations go on to compete with the industry's best at the national and then the international levels.
The evening unfolded under honorary president Pascale Roy, vice-president, Asset Management at GWL Realty Advisors, which is a presenting partner of the event.
2019 –20 BOMA AWARDS WINNERS
The ENVIRONMENT AWARD celebrates a building where environmental considerations and energy performance are of utmost importance, and have led to exemplary innovations and management practices.
1250 BOULEVARD RENÉ-LÉVESQUE OUEST – OXFORD PROPERTIES GROUP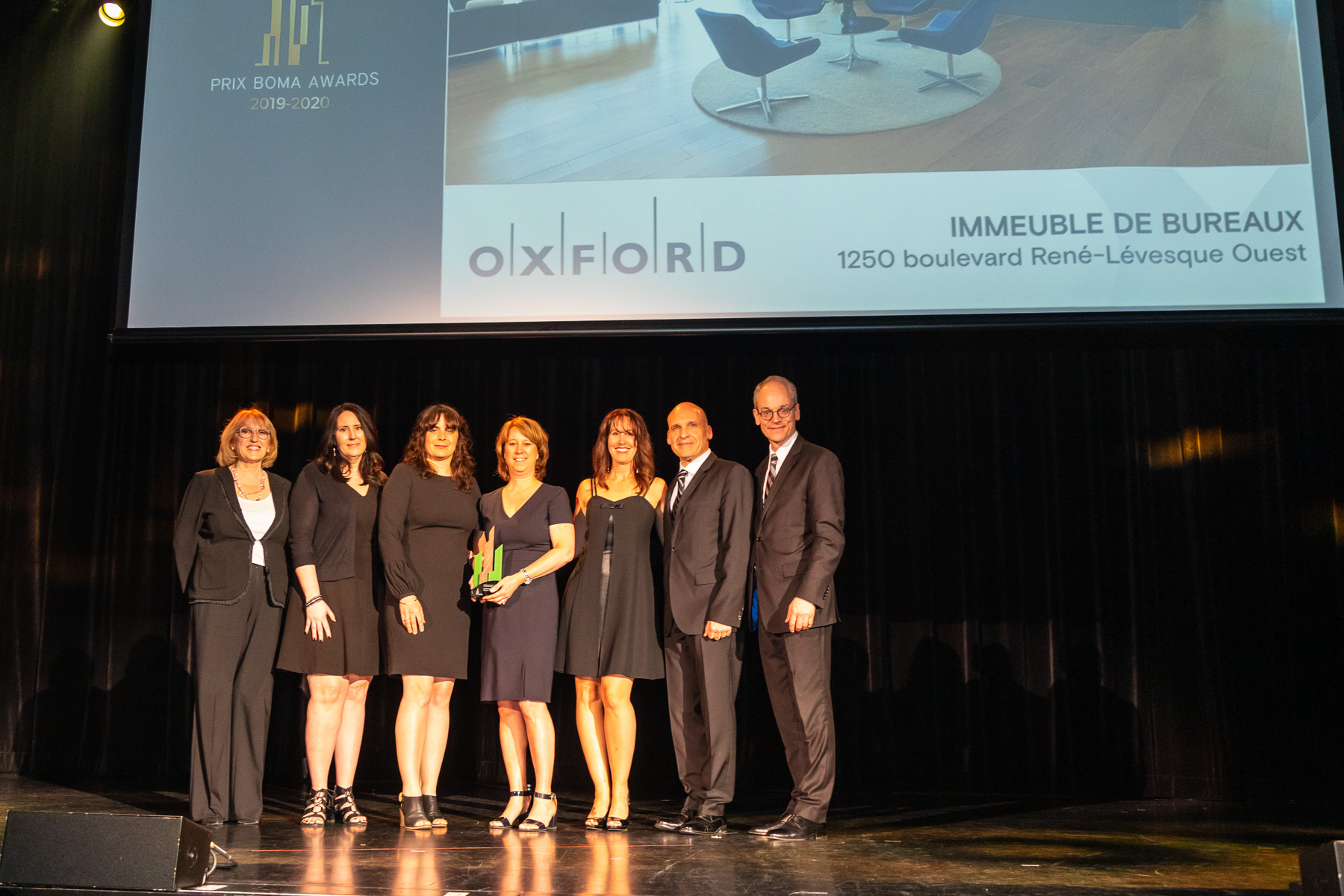 The BUILDING OF THE YEAR AWARD honours the stars of the commercial real estate industry renowned for excellence in building management, quality infrastructure and operations, efforts to resource conservation and environmental awareness. It is the most prestigious award bestowed in the North American real estate industry.
150, RUE DES COMMANDEURS (LÉVIS) – DESJARDINS PROPERTY MANAGEMENT - Corporate Facility Category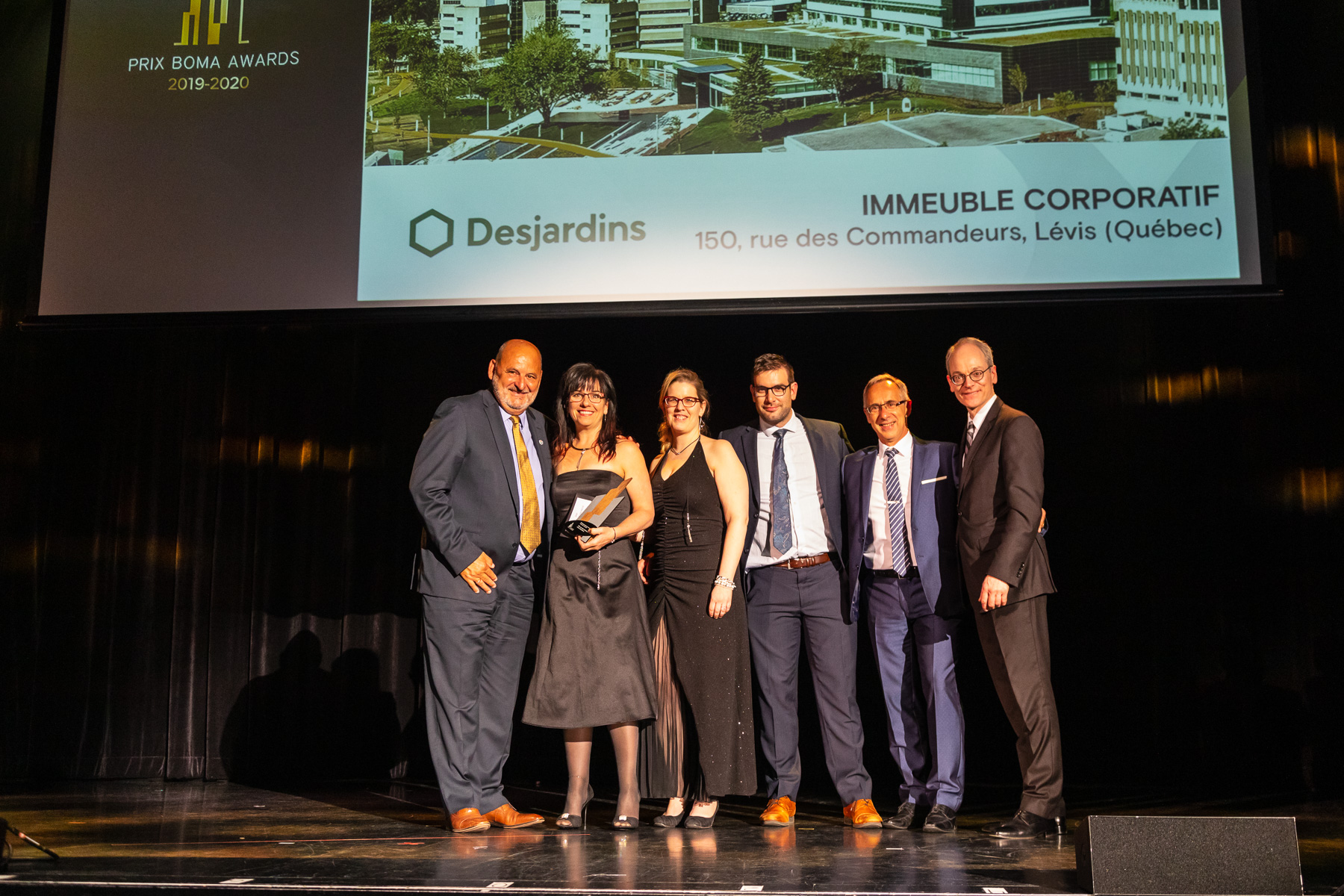 TOUR AIMIA – PSP INVESTMENTS AND KEVRIC - 100,000 to 249,999 square feet Category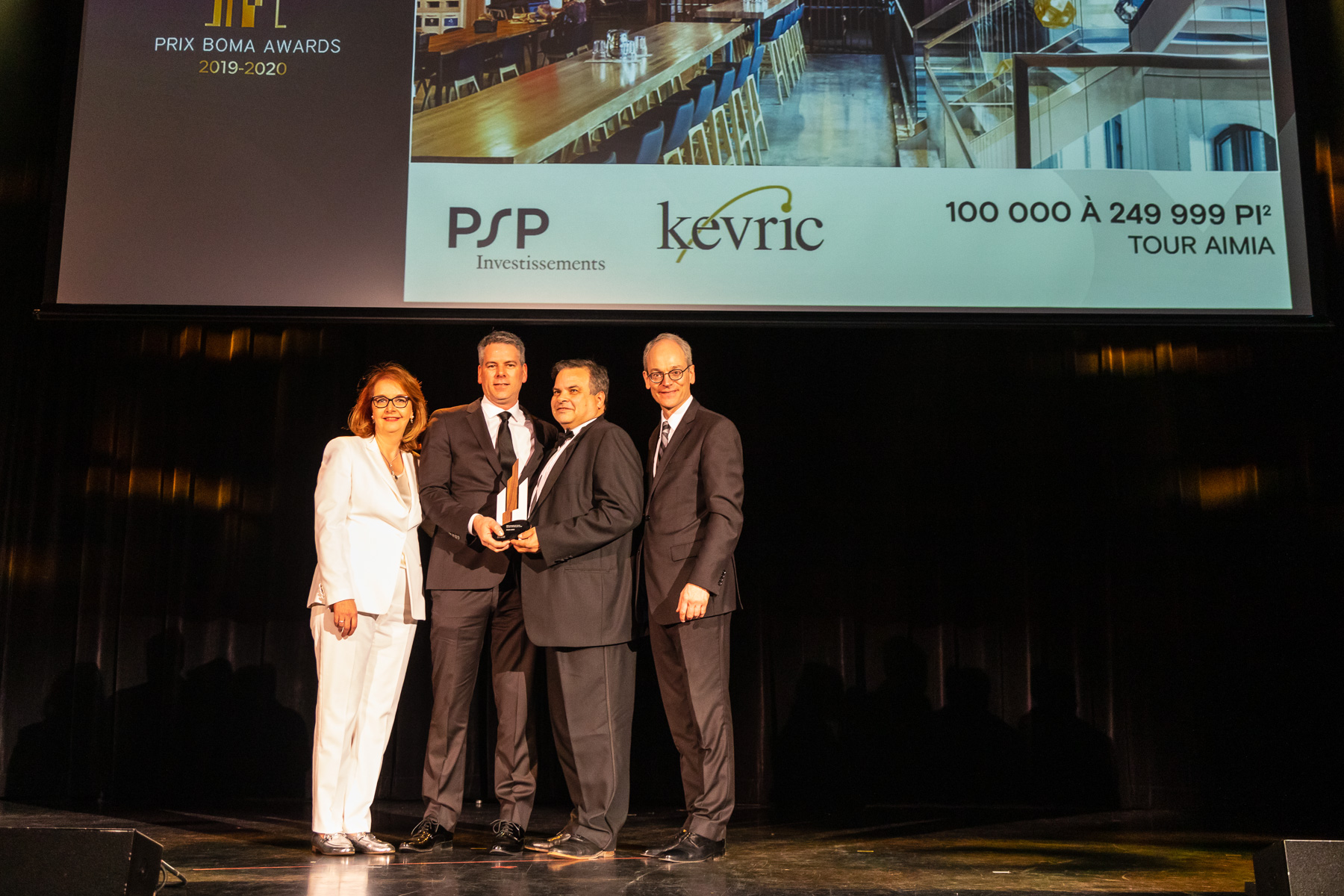 1350‐1360 RENÉ‐LÉVESQUE OUEST - GWL REALTY ADVISORS INC - 500,000 to 1 million square feet Category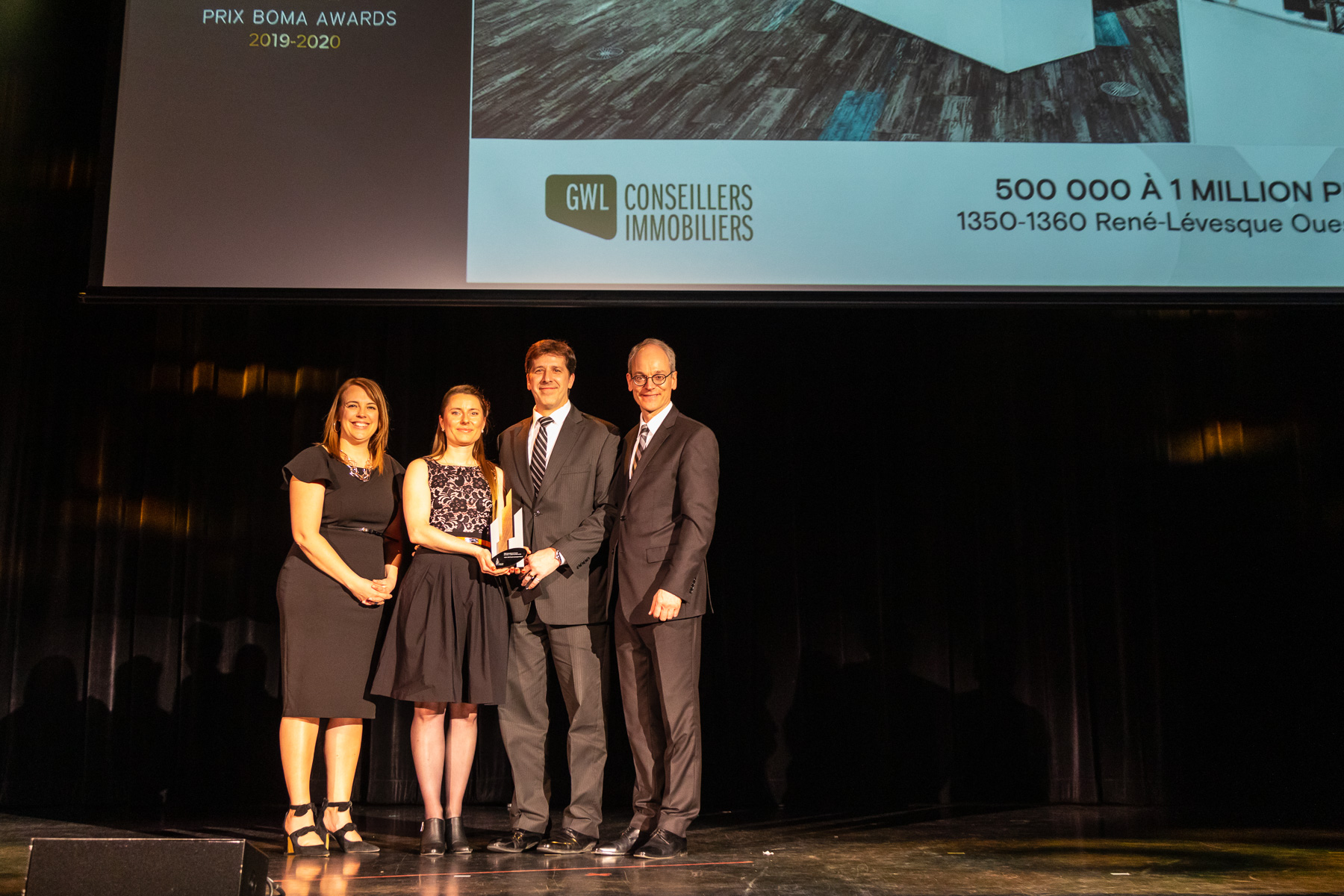 The PINNACLE AWARD pays tribute to outstanding customer service demonstrated through high quality service, innovation, consistency, creativity and integrity.
CITRON HYGIÈNE - Customer Service Category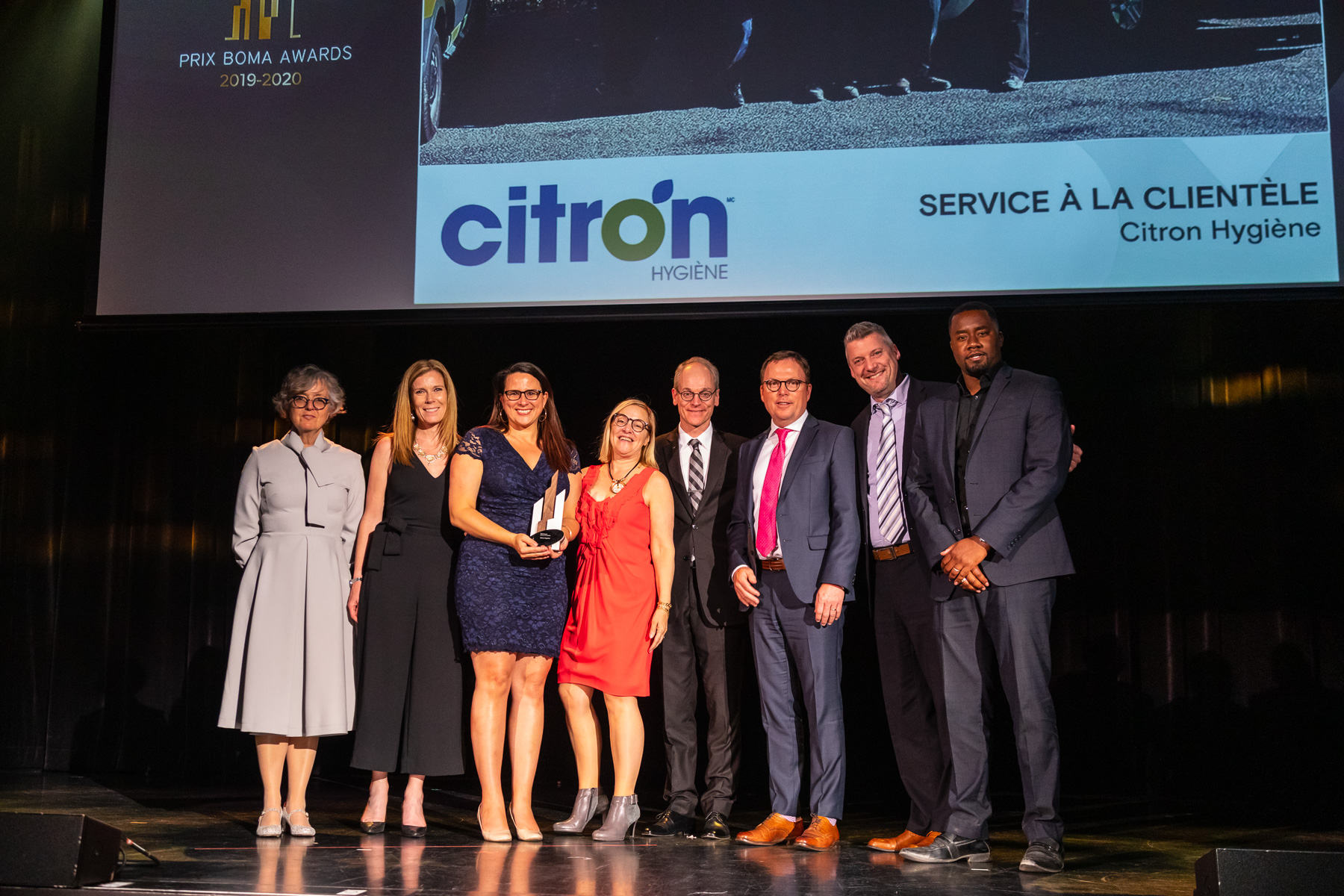 MINI ÉCOCENTRE MULTIRECYCLE - Innovation Category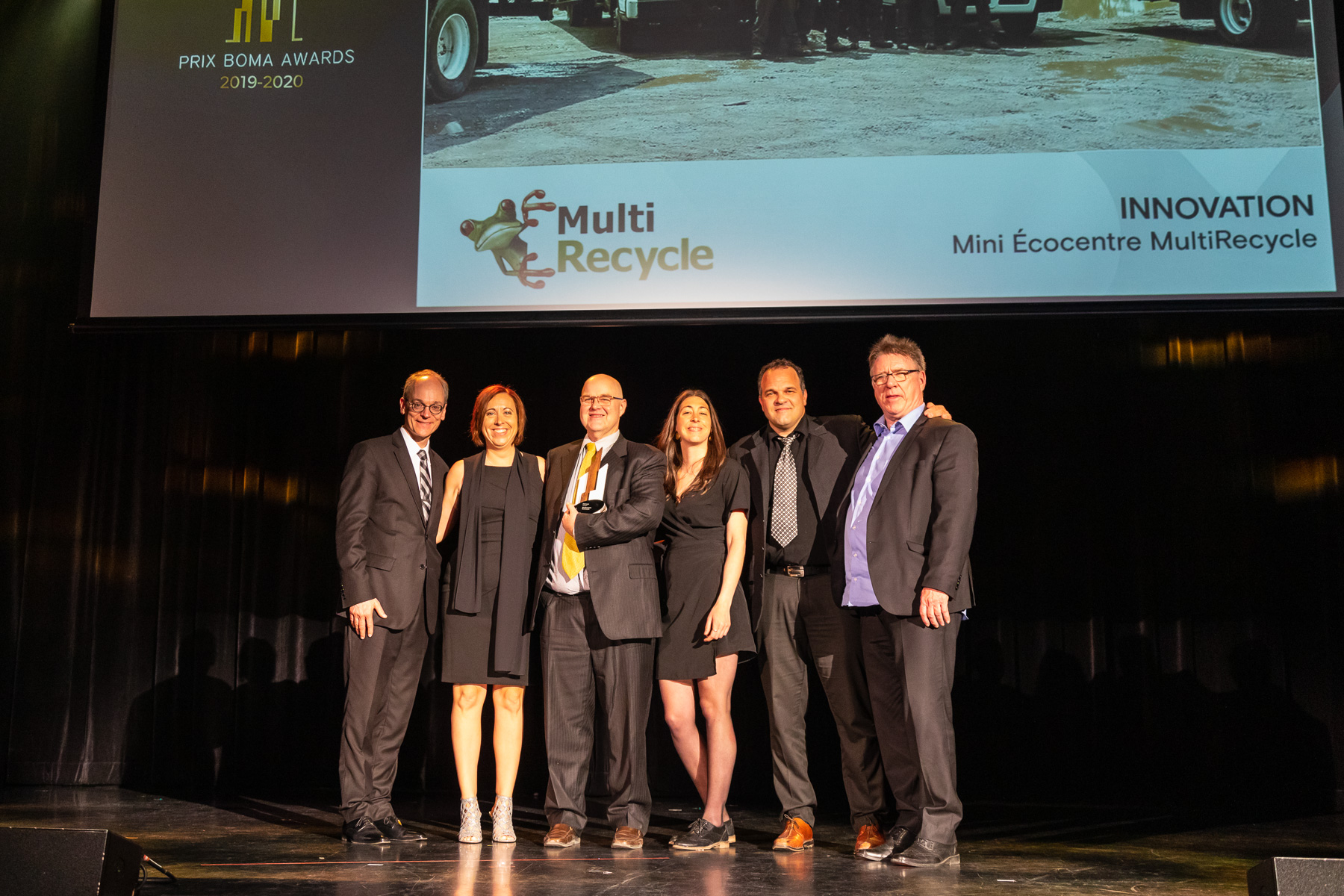 PRESIDENT AND EXCEPTIONAL VOLUNTEER AWARDS
The event was also an opportunity to take a moment to thank several people who have worked hard for the benefit of our association. The President's Award and the new Exceptional Volunteer Award are a way of expressing our thanks and honouring their commitment.
The President's Award was given to the two co-creators of the Building Energy Challenge: Geneviève Gauthier, a member of the Integrated Technical Management Committee, and Mario Poirier, outgoing president of BOMA Quebec. Presentation video is available here (available in french only).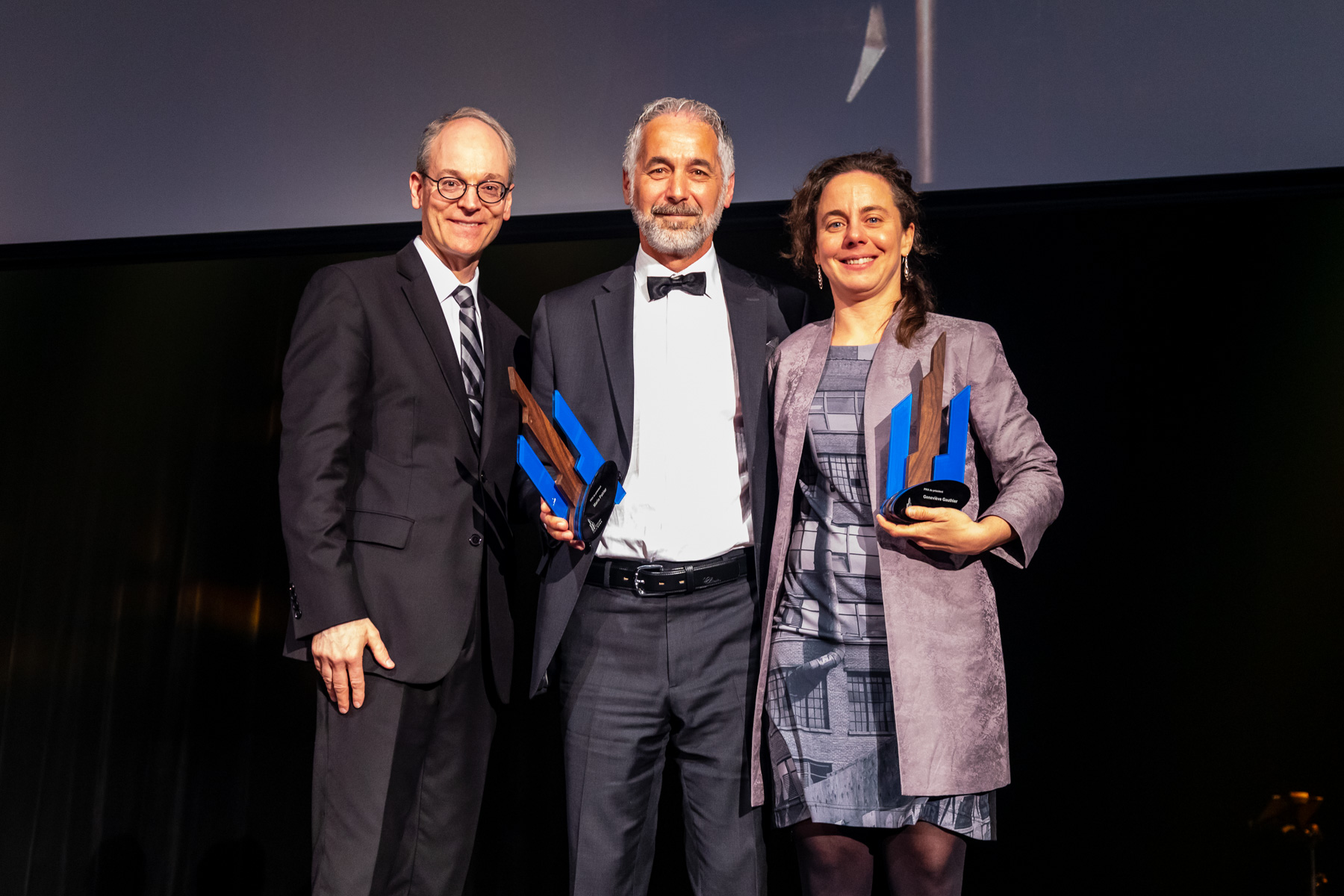 Bruno Turcotte, President, BOMA Québec, Mario Poirier and Geneviève Gauthier, co-creators of the Building Energy Challenge.
The new Exceptional Volunteer Award was given to Steve Gilbert, for his proactive involvement on the Greater Quebec City Committee and for his impressive lectures and presentations, and also to Ralph Karawani, for his ongoing work since 2012 promoting the industry and our association among a new generation of young real estate professionals.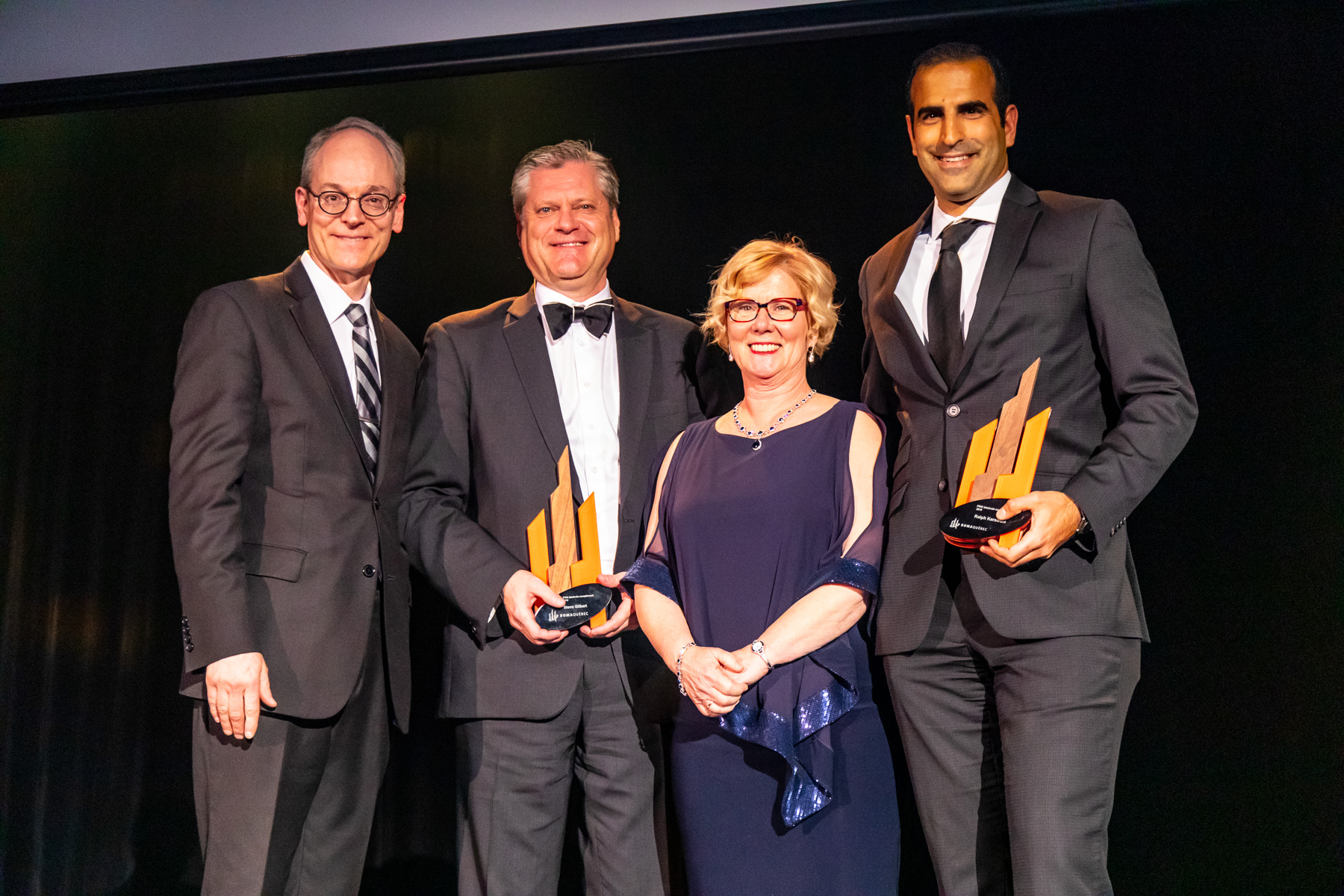 Bruno Turcotte, President, BOMA Québec, Steve Gilbert, President, Gilbert, Deschênes et associés, Linda Carbone, General Manager, BOMA Québec, Ralph Karawani, Real Estate Manager, Clients Relations, Ivanhoé Cambridge.
PRESENTATION OF BOMA BEST® CERTIFICATIONS
During the course of the evening, BOMA Quebec will also reveal the names of the most recent recipients of BOMA BEST® (Building Environmental Standards) certification. It is our pleasure to congratulate the following firms:
CERTIFIED FIRMS
Société des alcools du Québec
Édifice Tellier SAQ
4760 Acorn Inc. Building
Wireworks Lofts
Manulife Real Estate
4705 Dobrin
3 Hôtel-de-Ville
465 McGill
420 Notre-Dame
485 McGill
715 Square Victoria
3250 Lapinière
BRONZE LEVEL
FCR Management Services LP
Galeries Brien Est
Galeries Brien Ouest
SILVER LEVEL
FPI Cominar
4 Place Laval
Société québécoise des infrastructures
Édifice Guy-Frégault
Palais de justice de Laval
Loto-Québec
500, rue Sherbrooke Ouest
Crofton Moore Property Services
Le 5800
Groupe Petra
Place Carillon 1
Place Carillon 2
Tour Triomphe - 2500 Daniel-Johnson
Tour Triomphe - 2540 Daniel-Johnson
FCR Management Services LP
Carrefour St-Hubert
GOLD LEVEL
Loto-Québec
Casino de Mont-Tremblant
Complexe multifonctionnel de Loto-Québec
Montreal Mental Health University Institute
Montreal Mental Health University Institute
Westcliff Group
Galeries Chagnon
Groupe Petra
Place Victoria
Hydro-Québec
Centre administratif Beauport
Centre administratif Lebourgneuf
Centre administratif Hull
Centre de services Jarry
PLATINUM LEVEL
Société immobilière Courbec
Édifice Louis-Laberge du Fonds de solidarité FTQ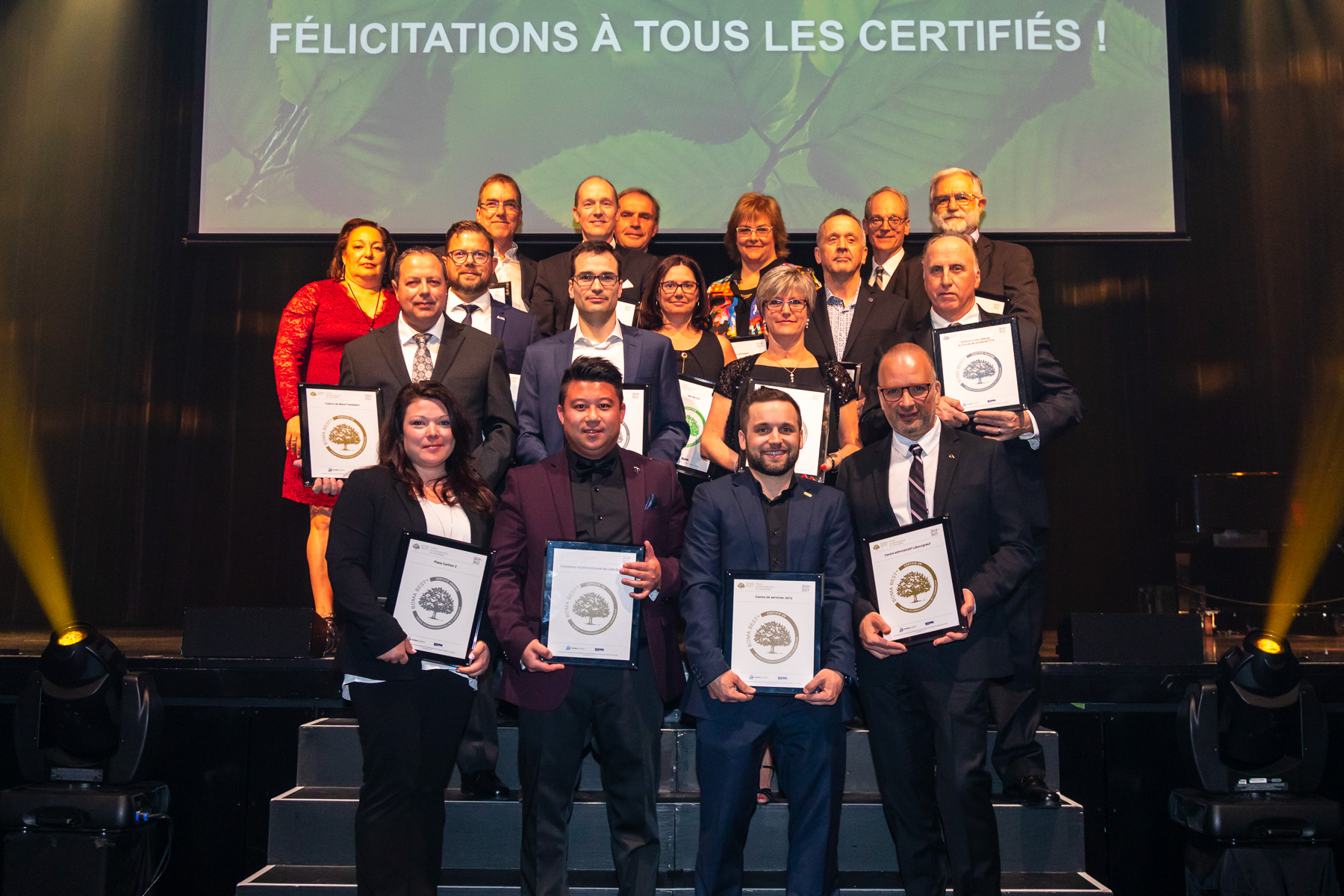 BOMA Quebec and the BOMA Awards
BOMA Quebec is the province's largest association of commercial property owners and managers, and its members own or manage 85% of Class A office buildings in Quebec. A leader in the field since its inception in 1927, BOMA Quebec has developed a reputation for excellence in property management and for increasing the value of commercial real estate assets.
BOMA BEST®
BOMA BEST® (Building Environmental Standards) is a national program launched in 2005 by BOMA Canada to address an industry need for realistic standards for energy and environmental performance of existing buildings based on accurate, independently verified information.
-30-
Source:
BOMA Quebec
For information:
Linda Carbone
Executive Director
514 282-3826, ext. 2012 | lcarbone@boma-quebec.org