MONTREAL, 18 April 2018 – On April 18 the Building Owners and Managers Association of Quebec (BOMA Quebec) held its Energy Symposium along with a presentation awarding BOMA BEST® certification to qualified buildings. 32 buildings can now proudly display their certificates. A testimonial to a strong commitment to reduce our ecological footprint and an acknowledgement of excellent environmental practices, BOMA BEST® remains for building owners and occupants a guarantee of sustainable environmental management and exemplary building operation performance.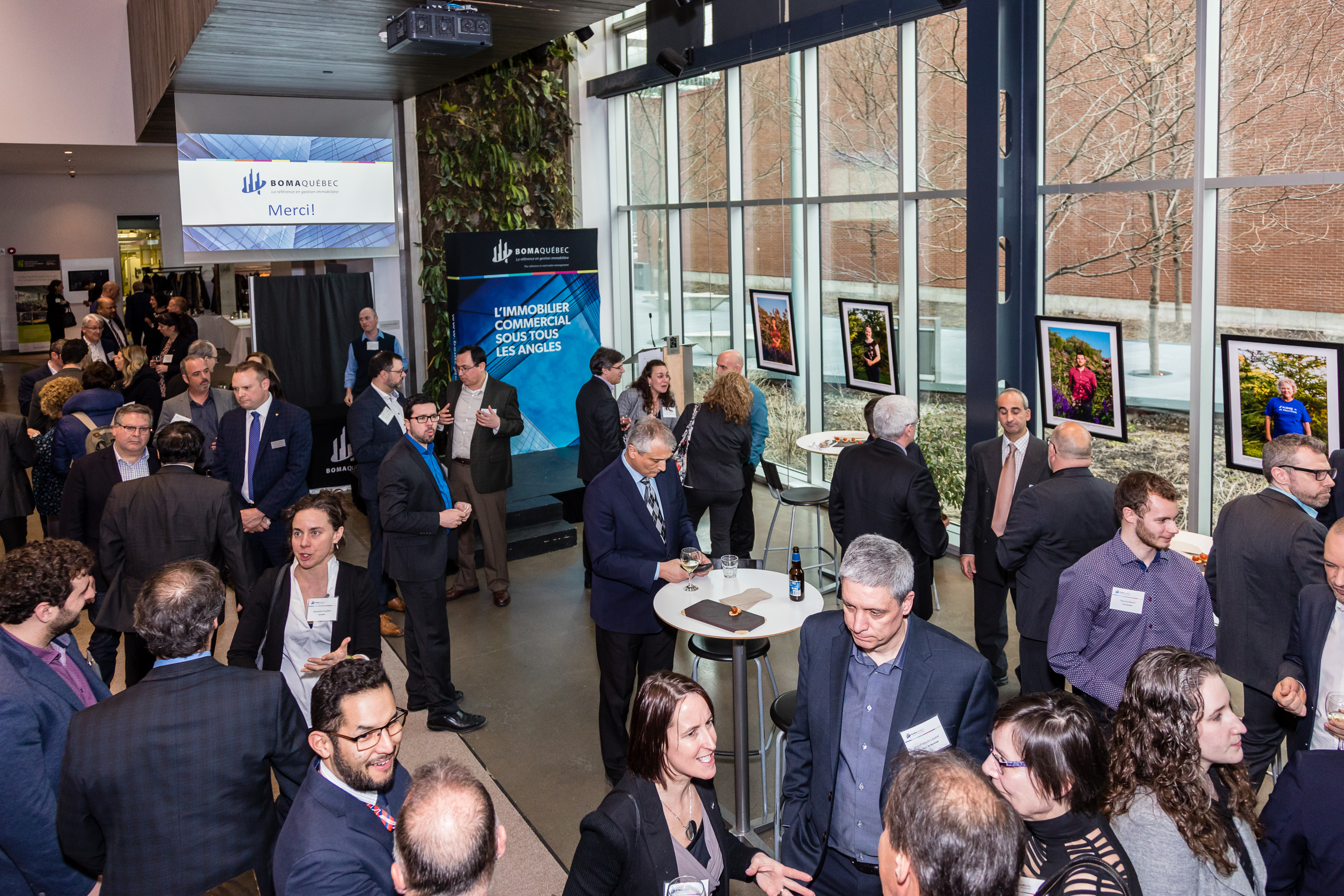 The awards ceremony took place at the Maison du développement durable in Montreal. We are very pleased to congratulate the following firms, particularly Bentall Kennedy (Canada) LP and Allied Properties Management for achieving Platinum status for their properties, the highest distinction for certified buildings.
We are proud to offer our congratulations to the following building management companies.
Platinum level
Bentall Kennedy (Canada) LP
Édifice Sun Life
Allied Properties Management
ALLIED – 111 boulevard Robert-Bourassa
ALLIED- 50 Queen
ALLIED – 700 Wellington & 75 Queen
ALLIED – 80 Queen & 87 Prince
Gold Level
Morguard Investments Ltd.
Centre commercial Place Rosemère
Hydro-Québec
L'Édifice Jean-Lesage
Centre administratif Laval
Centre administratif Rouyn
Centre administratif Chicoutimi
iA Groupe Financier
Immeuble 2200 McGill College
Le 2020 Robert-Bourassa
Aéroports de Montréal
Aéroport International Pierre-Elliot-Trudeau de Montréal
Groupe Immobilier Oxford
Les Galeries de la Capitale
Loto-Québec
Casino de Mont-Tremblant
Silver Level
Redbourne
Place TELUS
1800 McGill College
Allied Properties Management
ALLIED- 6300 avenue du Parc
ALLIED – 5505 boul. Saint-Laurent
ALLIED – 5445 avenue de Gaspé
ALLIED – 5455 avenue de Gaspé
Kevlar
Complexe de ville
Loto-Québec
Centre informatique Pierre-de-Coubertin
Bentall Kennedy (Canada) LP
7450 Mile-End
Hydro-Québec
Pavillon Lionel-Boulet IREQ

Groupe de Sociétés Westcliff
755 St-Jean
Euromart Corporation du Canada
Le 800 d'Youville
Édifice Les Façades inc.
LES FAÇADES DE LA GARE
Bronze Level
Groupe de sociétés Westcliff
Place de ville
Certified Level
Société du Palais des Congrès de Montréal
Palais des congrès de Montréal
102662 Canada Inc.
Édifice de la Gare-Talon
Impact Gestion Immobilière inc.
Saphir
About BOMA BEST®
The program consists of five levels – Platinum, Gold, Silver, Bronze and Certified. Such certification and an intuitive brand image means that the occupants of certified buildings can count on quality environmental practices and management. The program is constantly evolving, and on October 1, 2016 a new version of the questionnaire was launched. The new, completely revamped questionnaire is on a brand new digital platform that is more flexible, more user-friendly and customizable. It also has new supplemental evaluation protocols. These include BOMA BEST® for sustainable workplaces based on tenant activities, and a new resilience measuring tool to evaluate a building's vulnerability to extreme weather events.
About BOMA Quebec
BOMA Quebec (boma-quebec.org) is the province's largest association of commercial property owners and managers, and its members own or manage 85% of Class A office buildings in Quebec. A leader in the field since its inception in 1927, through the services it offers BOMA Quebec has developed standards of excellence in real estate management whose goal is to increase the value of property assets. For BOMA Quebec, those assets include not only the material aspects of a building but also immaterial aspects such as the quality of the management team, as well as a building's tenant profile and architectural style.
-30-
For more information:
Marie-Claude Fontaine
BOMA BEST® Coordinator
BOMA Quebec
514 282-3826, ext. 2007
e-mail: mcfontaine@boma-quebec.org