QUEBEC, November 29, 2017 – The Building Owners and Managers Association of Quebec (BOMA Quebec) is pleased to salute the energy and environmental performances of many buildings. The Building Environmental Standards certification sets performance benchmarks for indoor air quality, energy management, recycling and re-use, waste reduction, tenant awareness as well as health and safety. Levels are determined by points allocated by an independent expert during an on-site inspection. The goal of the program is to "Create a sustainable environment, one building at a time."
We are proud to offer our congratulations to the following building management companies.
Gold Level
iA Groupe Financier
iA Groupe Financier – 1150 Grande Allée Ouest
Silver Level
iA Groupe Financier
iA Groupe Financier – Siège social
Le 925 Grande Allée Ouest
Société immobilière GP
Édifice Boisé Langevin
Bronze Level
Loto-Québec
Casino de Charlevoix
BOMA Quebec encourages the next generation of young real estate management professionals, and in fact has made it a top priority. During the event, BOMA Quebec awarded a $1500 bursary to Évelyne Clapperton, an urban and real estate management student at Laval University.
Congratulations and good luck in your future endeavours!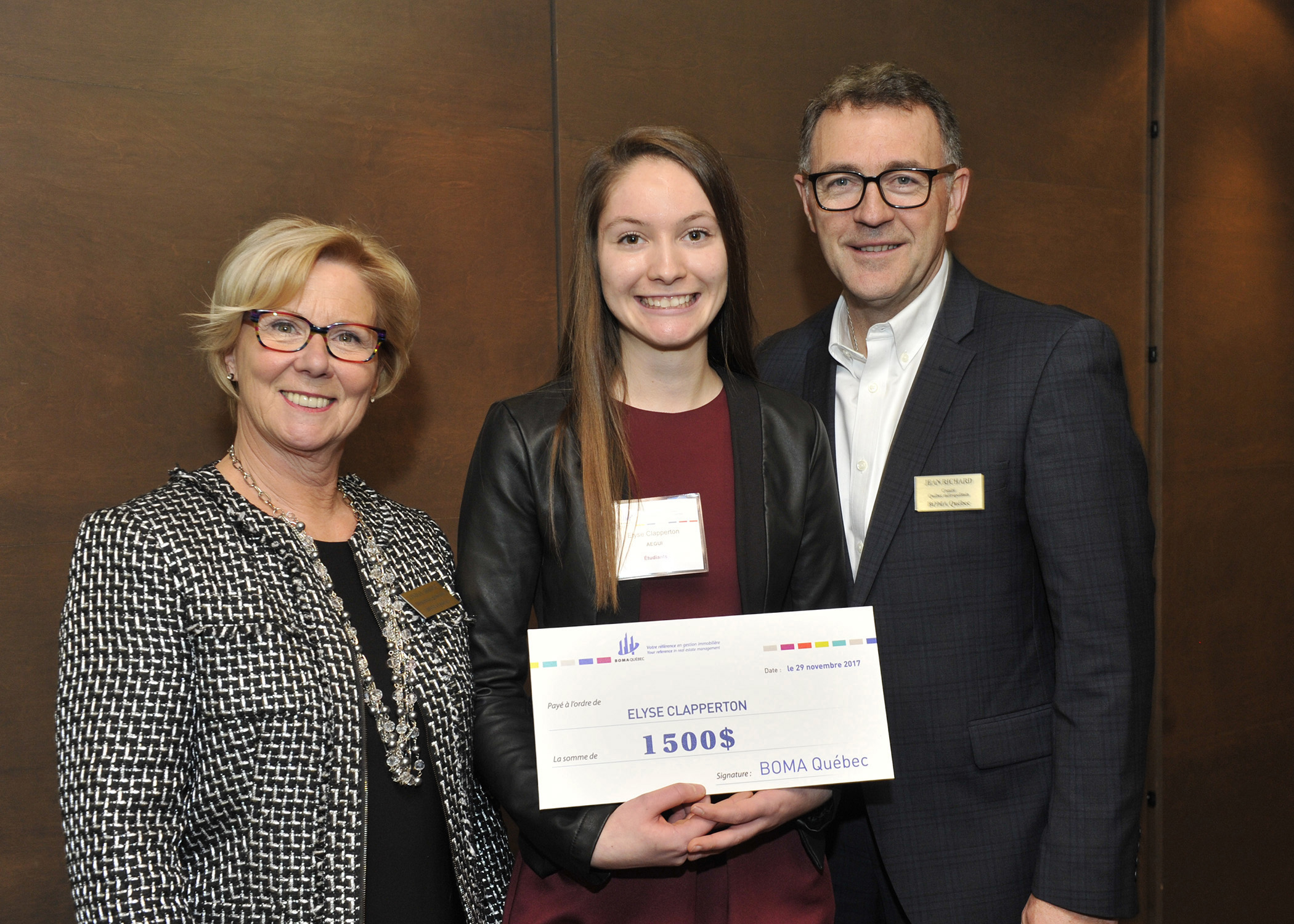 Photo (left to right): Linda Carbone, BOMA Québec ; Élyse Clapperton, étudiante à l'Université Laval and Jean Richard, president of Metropolitan Quebec Committees
About BOMA BEST®
The program consists of five levels – Platinum, Gold, Silver, Bronze and Certified. Such certification and an intuitive brand image means that the occupants of certified buildings can count on quality environmental practices and management. The program is constantly evolving, and on October 1, 2016 a new version of the questionnaire was launched. The new, completely revamped questionnaire is on a brand new digital platform that is more flexible, more user-friendly and customizable. It also has new supplemental evaluation protocols. These include BOMA BEST
®
for sustainable workplaces based on tenant activities, and a new resilience measuring tool to evaluate a building's vulnerability to extreme weather events.
About BOMA Quebec
BOMA Quebec (boma-quebec.org) is the province's largest association of commercial property owners and managers, and its members own or manage 85% of Class A office buildings in Quebec. A leader in the field since its inception in 1927, through the services it offers BOMA Quebec has developed standards of excellence in real estate management whose goal is to increase the value of property assets. For BOMA Quebec, those assets include not only the material aspects of a building but also immaterial aspects such as the quality of the management team, as well as a building's tenant profile and architectural style.
-30-
For more information:
Marie-Claude Fontaine
BOMA BEST® Coordinator
BOMA Quebec
514 282-3826, ext. 2007
e-mail: mcfontaine@boma-quebec.org