Montreal, May 10, 2017 - The Building Owners and Managers Association unveiled the winners of its 2017-2018 BOMA Awards during a gala ceremony on May 10th at the Grande-Place of Complexe Desjardins. Ms Viviane Garneau, Managing Vice-President, Real Estate, Procurement and Administration at Desjardins Group served as honorary chair of the 15th edition
BOMA Québec would like to thank its Presenter sponsor of the event, Groupe immobilier Desjardins.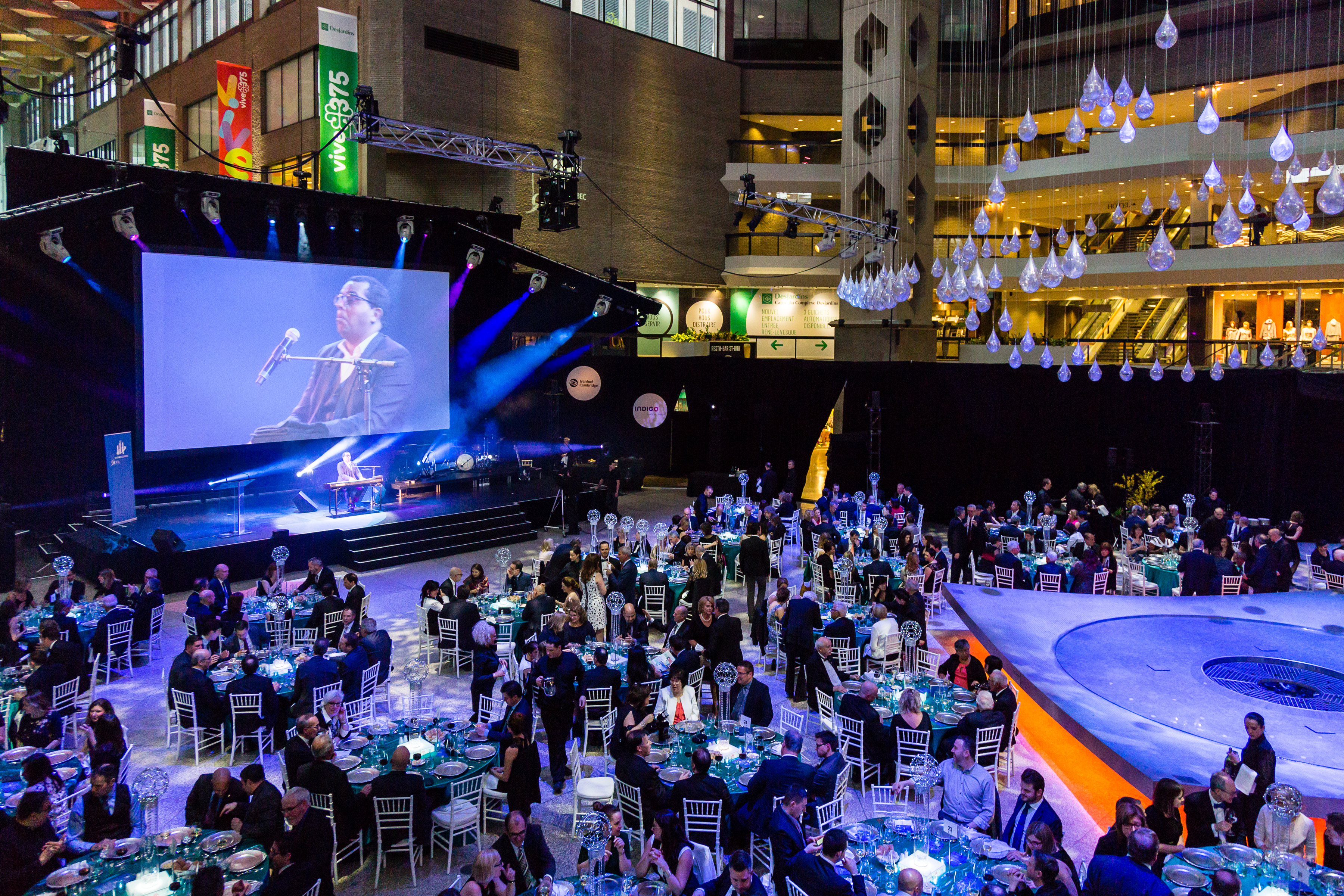 Building of the year award – HISTORICAL BUILDING
SUN LIFE BUILDING
BENTALL KENNEDY (CANADA) LP
Building of the year award – 250 000 TO 499 999 SQ. FT.
150, RUE DES COMMANDEURS, LÉVIS
DESJARDINS PROPERTY MANAGEMENT
Building of the year award – CORPORATE FACILITY
HEAD QUARTERS – LA CAPITALE FINANCIAL GROUP
LA CAPITALE FINANCIAL GROUP
Building of the year award – Public Assembly Buildings
Pierre Elliott Trudeau International Airport
AÉROPORTS DE MONTRÉAL
ENVIRONMENT AWARD – OFFICE BUILDING
ÉDIFICE LOUIS-LABERGE DU FONDS DE SOLIDARITÉ FTQ
COURBEC
ENVIRONMENT AWARD – HEALTHCARE FACILITY
HÔPITAL NOTRE-DAME DU CHUM
CHUM
ENVIRONMENT AWARD – SHOPPING CENTRE
PLACE MONTRÉAL TRUST
IVANHOÉ CAMBRIDGE
PINNACLE AWARD – CUSTOMER SERVICE
1250, RENÉ-LÉVESQUE BOULEVARD-MONTREAL
OXFORD PROPERTIES GROUP
PINNACLE AWARD –innovation
CONNECPARK, SMART CUSTOMER ASSISTANCE
INDIGO PARK CANADA INC.
PINNACLE AWARD – ABOVE AND BEYOND SERVICE
SOPREMA
SOPREMA

It was also during this gala evening that BOMA Québec revealed the names of the most recent recipients of the BOMA BEST® environmental certification (Building Environmental Standards). We are proud to congratulate the following companies:
CERTIFIED LEVEL
Bentall Kennedy (Canada) LP
Galeries Le Gardeur
Faubourg Bois-Franc
Canderel Management Inc.
8455-8501 route Transcanadienne
8801 route Transcanadienne
Fonds de placement immobilier Cominar
550 de la Cité - Gatineau
975, boulevard St-Joseph. Gatineau
Immobilier Manuvie
Place Pierre Boucher
Ivanhoé Cambridge Inc.
Carrefour de l'Estrie
Services de gestion FCR LP
Place Fleury
Plaza Laval Élisée
Place Kirkland
Les Promenades Lévis
SGPI-Ville de Montréal
Caserne de pompiers #52
BRONZE LEVEL
Bentall Kennedy (Canada) LP
6800 Côte de Liesse
6700 Côte de Liesse
BSGI pour SPAC
Édifice Fédéral, 235 Rue Principale
Centre fiscal
Complexe Guy-Favreau
Édifice Jeanne-Sauvé
Centrale des syndicats du Québec
Siège social de la CSQ
SILVER LEVEL
Bentall Kennedy (Canada) LP
7445 Côte de Liesse
Tour KPMG
315 Brunswick
900 Reverchon
BSGI pour SPAC
Édifice Fédéral, 120 de la Reine
Édifice Fédéral, 1340 de la Digue
Édifice Fédéral, 75 René-Lévesque
Édifice Frédérica-Giroux
Centre fiscal, Édifice Gilles-Marceau
Édifice Jos-Hébert
FPI Cominar
255, boulevard Crémazie Est, Montréal
Gestion Creit & O.P. Trust
Méga Centre Lebourgneuf
Méga Centre Ste-Foy
Gestion IBL s.e.n.c.
Place du Vieux Marché
Groupe Petra
50 Place Crémazie
Le groupe de Sociétés Westcliff
Carrefour du Nord
Loto-Québec
Salon de jeux de Trois-Rivières
Polaris Realty (Canada) Ltd.
Le 800 René-Lévesque Ouest
Santé Canada et Agence de la santé publique du Canada / Gouvernement du Canada
Laboratoire Santé Canada de Longueuil
Société des Casinos du Québec
Casino de Montréal
Société québécoise des infrastructures
Centre administratif 190 Crémazie Est
Triovest Realty Advisors Inc.
4177 boul. Industriel
Conseillers immobiliers GWL
6520-6620 Abrams
GOLD LEVEL
Bentall Kennedy (Canada) LP
7625-7695 Côte de Liesse
4455-4475 Griffith
Cadillac Fairview
CF Promenades St-Bruno
Gestion Creit s.e.c.
Place Sherbrooke
Gestion Immobilière Dream
Le 700 De La Gauchetière
Gestion Redbourne PDP Inc.
Tour Transat
iA Groupe Financier
Le 1981 McGill College
Le 1611 Crémazie
Ivanhoé Cambridge
Centre Commercial Laurier
Polaris Immobilier (Canada) Ltée
Tour McGill College
Redbourne
1801 McGill College
Société de la Place des Arts de Montréal
Place des Arts de Montréal
Société québécoise des infrastructures
Centre administratif 201 Crémazie Est
Édifice Jos-Montferrand
PLATINUM LEVEL
Gestion Creit s.e.c.
Le 100 Alexis-Nihon
Groupe immobilier Desjardins
150 rue des Commandeurs
La Capitale Groupe Financier
La Capitale groupe financier inc. – Siège social
SUSTAINABLE WORKPLACES
Engie Services
Engie Services office, 550, Sherbrooke St. West
About BOMA AWARDS
The BUILDING OF THE YEAR AWARD rewards commercial real estate companies that have shown excellent management practices, offer quality infrastructure and are ecologically conscious. The title is the North American industry's most prestigious recognition.
The ENVIRONMENT AWARD aims to highlight the importance of resource conservation and sustainable commercial building management. It is presented to properties that have made significant efforts to improve their environmental performance.
The PINNACLE AWARD recognizes outstanding customer service demonstrated through creativity, integrity and attention to detail.
The PRESIDENT'S AWARD recipient is selected by the head of BOMA Québec's Board of Directors. The honour goes to a volunteer who has demonstrated exceptional commitment and dedication to the association.
About BOMA BEST®
BOMA BEST® (Building Environmental Standards) is a national program launched in 2005 by BOMA Canada with a view to meeting the industry's needs for realistic standards for energy and environmental performance in existing buildings, based on precise data and with independent verification. The awards reception aims to recognize excellence, both of the buildings themselves and of the individuals and enterprises that stand out among others in Quebec's commercial real estate industry in matters of environmental management and performance.
About BOMA Québec
The provincial Building Owners and Managers Association has more than 400 members who oversee no less than 85% of Class A commercial properties in Quebec. It has become a major force in the Quebec real estate sector since its foundation in 1927, due in large part to its BOMA BESt environmental certification program and its standard for measuring office space floor area, both of which have become industry benchmarks. BOMA Québec is affiliated with BOMA Canada and BOMA International, which has offices in a dozen countries, including Australia, Russia and Japan. In North America, BOMA counts some 16,500 members who own or manage 9 million square feet of commercial building space.
For a preview of the evening in picture, click here.

Contact information :
Linda Carbone
BOMA Québec
514 282-3826, ext. 2012
Courriel : lcarbone@boma-quebec.org
-30-