MONTREAL, 16 November 2016 – The Building Owners and Managers Association of Quebec (BOMA Quebec) is pleased to salute the energy and environmental performances of more than 40 buildings. BOMA Quebec is especially proud of the record number of Platinum level certifications awarded. These were given to buildings with a score of 90% or more, a reflection of their commitment to the environment. Among the firms receiving this highest level of BOMA BEST® certification were Ivanhoe Cambridge and the Société québécoise des infrastructures.
BOMA Quebec was also delighted to bestow its first certificate for the latest BOMA BEST® module, the Sustainable Workplaces .
That is how the Canderel head office became the first firm in Quebec to be certified a BOMA BEST® Sustainable Workplace!
The awards ceremony took place in the Observatory Au Sommet Place Ville Marie and attracted some one hundred guests.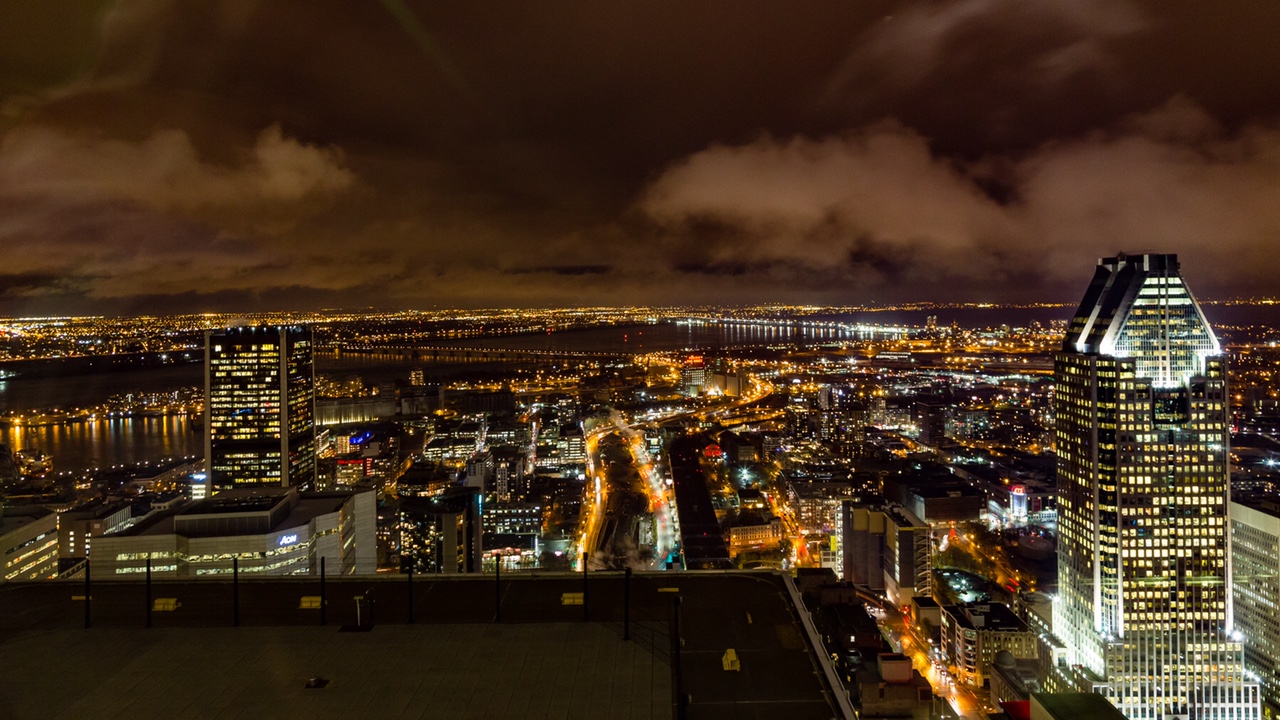 Congratulations to the following firms:
Platinum Level
Ivanhoe Cambridge Inc.
Centre de Commerce Mondial de Montréal
Édifice Jacques-Parizeau
Le Méco
Place Montréal Trust
Place Ville Marie
Société québécoise des infrastructures
Édifice Roger-Paré
Gold Level
GWL Realty Advisors Inc.
2001 Robert-Bourassa
555 Dr. Frederik Philips
Triovest Realty Advisors
Le 999 de Maisonneuve O
Magil Laurentian Realty Corporation
Le Windsor
Cominar Real Estate Investment Trust
Les Galeries de Hull LTD.
Hypertec Center
Hypertec STL
Ivanhoe Cambridge Inc.
Le Centre Eaton de Montréal
Montreal Herald
Natural Resources Canada
CanmetÉNERGIE
Société des Alcools du Québec
Centre de Distribution de Montréal
Édifice des Futailles
SNC Lavalin O&M Inc.
Maison symphonique de Montréal
Kevlar Group Inc.
Kevlar 2575 Ste-Anne
Société québécoise des infrastructures
Édifice Catherine-de-Longpré
Édifice Louis-Joseph-Moreault
Palais de justice de Valleyfield
Silver Level
GWL Realty Advisors Inc.
6505 Transcanadienne
6520-6620 Abrams
9305-9405 Transcanadienne
9415-9495 Transcanadienne
Cominar Real Estate Investment Trust
FPI Cominar - Place Longueuil
Place de la Cité
Loto-Québec
Casino du Lac-Leamy
Hilton Lac-Leamy
FCR Management Services LP
Carrefour du Versant
Place Nelligan
Place Pointe-aux-Trembles
Promenades du Parc
Société québécoise des infrastructures
222, rue Saint-Georges
Édifice Ernest-Cormier
Bronze Level
BTB Real Estate Investment Trust
1400-1440, rue Antonio-Barbeau
Le Marché de l'Ouest
Cominar Real Estate Investment Trust
255, boulevard Crémazie Est, Montréal
Westcliff Group of Companies
Place du Centre
Certified Level
BTB Real Estate Investment Trust
32, rue St-Charles Ouest
85, rue St-Charles Ouest
Galeries Richelieu
Cominar Real Estate Investment Trust
Plaza Laurier
Galion Gestion Développement Immobilier Inc.
Complexe L.L. Phase I, S.E.C.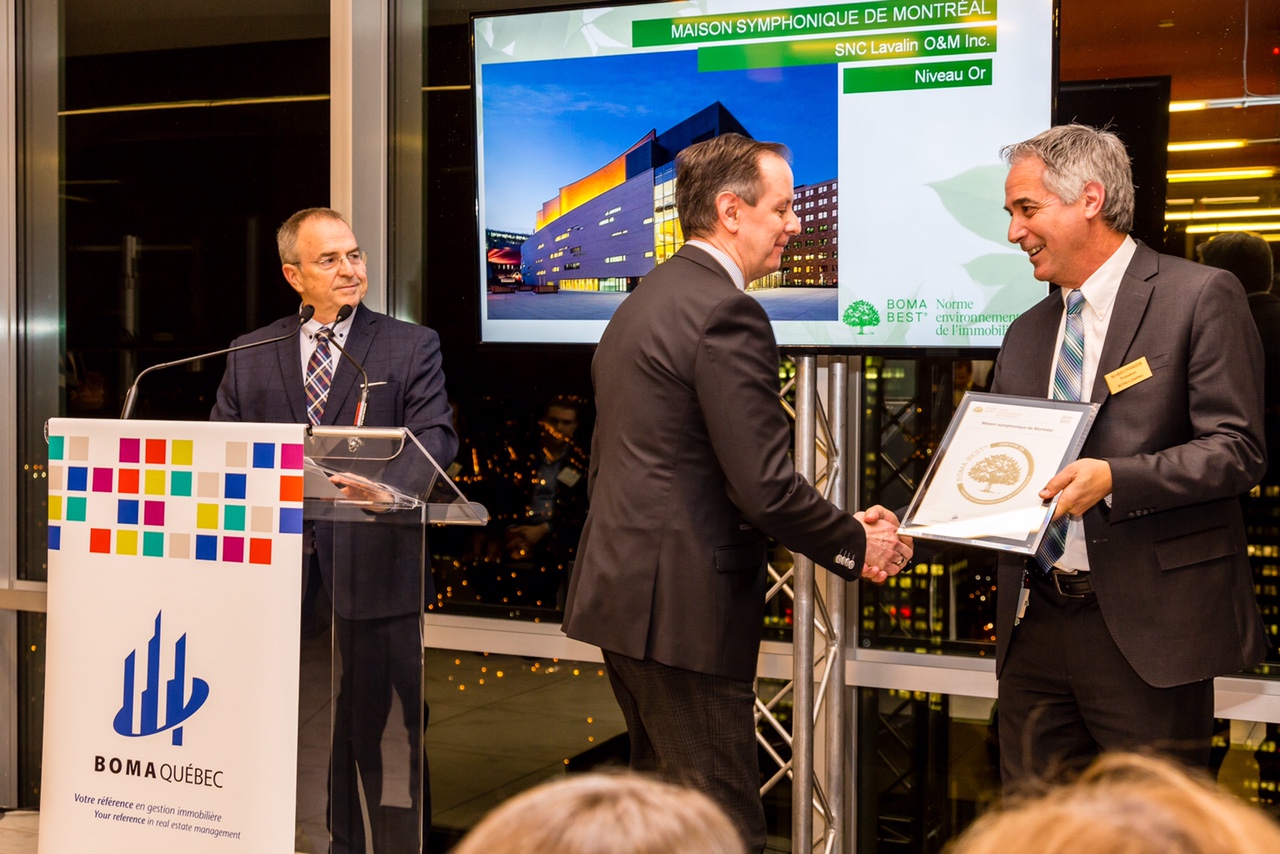 About BOMA BEST®
The program consists of five levels – Platinum, Gold, Silver, Bronze and Certified. Such certification and an intuitive brand image means that the occupants of certified buildings can count on quality environmental practices and management. The program is constantly evolving, and on October 1, 2016 a new version of the questionnaire was launched. The new, completely revamped questionnaire is on a brand new digital platform that is more flexible, more user-friendly and customizable. It also has new supplemental evaluation protocols. These include BOMA BEST® for sustainable workplaces based on tenant activities, and a new resilience measuring tool to evaluate a building's vulnerability to extreme weather events.
About BOMA Quebec
BOMA Quebec (boma-quebec.org) is the province's largest association of commercial property owners and managers, and its members own or manage 85% of Class A office buildings in Quebec. A leader in the field since its inception in 1927, through the services it offers BOMA Quebec has developed standards of excellence in real estate management whose goal is to increase the value of property assets. For BOMA Quebec, those assets include not only the material aspects of a building but also immaterial aspects such as the quality of the management team, as well as a building's tenant profile and architectural style.
-30-
For more information:
Marie-Claude Fontaine
BOMA BEST® Coordinator
BOMA Quebec
514 282-3826, ext. 2007
e-mail: mcfontaine@boma-quebec.org